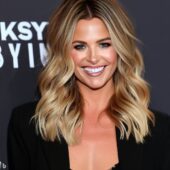 Krisily Kennedy
Krisily Kennedy is a renowned dating coach, author, and speaker who has been helping people navigate the complexities of modern dating for over a decade. With a keen understanding of human behavior, Krisily has empowered countless individuals to find and maintain fulfilling relationships.
As the founder of her eponymous website, KrisilyKennedy.com, she has created a comprehensive resource for singles seeking guidance on all aspects of dating, from building confidence to making meaningful connections. Her articles and videos have been featured on a variety of popular platforms, including The Huffington Post, YourTango, and Elite Daily.
Krisily is also the author of the book "Finding Your Prince in a Sea of Toads," which draws on her personal experiences and professional expertise to offer practical advice for anyone seeking love. In addition to her coaching and writing work, Krisily is a sought-after speaker and has delivered talks and workshops at numerous events, conferences, and universities.
With her warm personality and down-to-earth approach, Krisily is dedicated to helping others discover the joys of authentic connection and meaningful relationships. Whether you're struggling to find love or simply looking to improve your dating skills, Krisily Kennedy is the expert you can trust to guide you on your journey.
Articles Written By Krisily Kennedy
Blog
Dating Sites
Finding the Perfect Dating Niche for Your Specific Needs
USASexGuide Review: All You Need To Know About Site