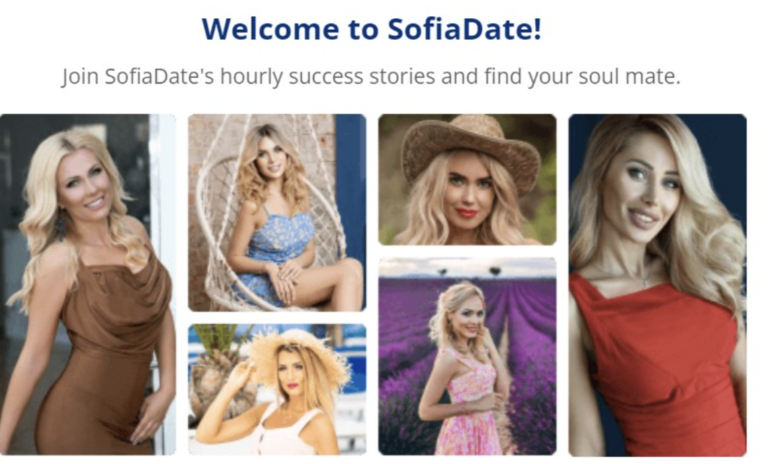 With more than 500K members on this website, Sofia Date is a great choice if you're particularly interested in dating beautiful women from Ukraine, Moldova, Romania, and other countries of Eastern Europe. Established in 2014, this dating website managed to become one of the most professional and experienced dating sites connecting female and male users.
But why use the SofiaDate dating site? It's an international dating service offering professional features and tools to single men and women. Besides, its safety and security measures make it stand out among other dating platforms. If you're interested in learning more about it, continue reading this SofiaDate review.
Girls online
More than 6200
GOOD FOR
those seeking to date stunning women from Ukraine, Moldova, Romania.
A large user base of beautiful women
Advanced search tools
An ideal website for a long-term relationship
Detailed profiles of female users
Safety measures against fake profiles
Not so many free services
No dedicated mobile app
The online dating industry has radically changed the way we date today, but it doesn't mean that every online dating platform can be ideal for you. There are plenty of niche dating sites. If you're interested in meeting and dating charming women for a long-term commitment, you might want to consider using SofiaDate online dating site.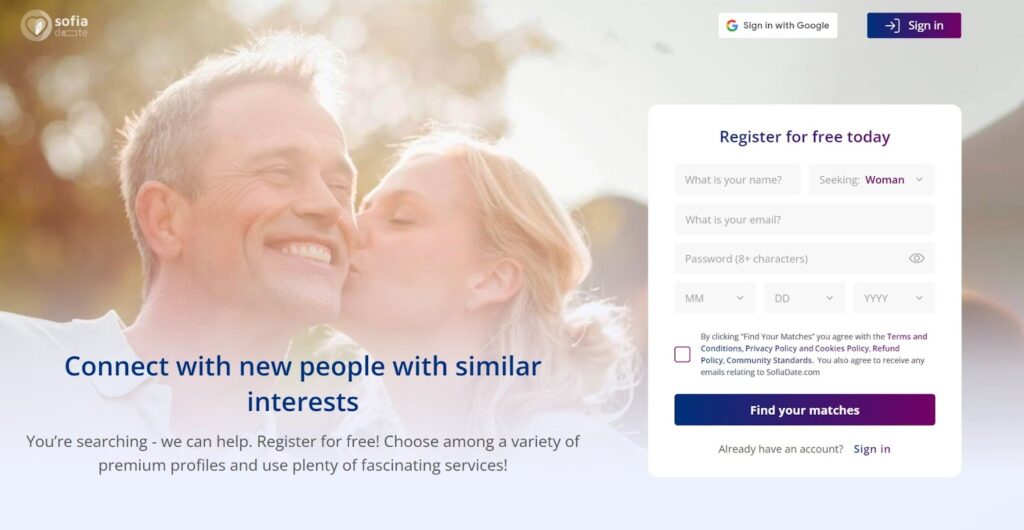 Introduction
Visit site of Sofia Date and learn what it can offer. You'll get a chance to get some insights about it without the need to register. Still, to get access to the profiles of the most charming ladies online, you'll have to create a new account. Before you start your registration process, have a quick glance at the highlights of this website:
It's a perfect dating website for committed relationships and long-term connections;
Sofia Date is a credit-based platform where you have to get credits to use its features;
The starting price of its online dating services is $2.99 to get 35 credits;
The quality of ladies' profiles is impressive, in addition to professional photos;
The website is mobile-friendly, although it doesn't offer any dedicated mobile app;
Free credits are given to new users as a welcome bonus;
Sofia Date offers advanced search filters and a matchmaking system;
The strict verification process ensures amazing profile quality;
The site provides a Tutorial section if you want to learn more about the use of the website;
With the Like Her feature, you can swipe until you find the right match.
Although the site offers some free visual content like profile photos and videos, the communication here is paid. You'll have to get credits to access all the services.
All You Need To Know About SofiaDate Dating Website
SofiaDate is a professional dating platform with a wide range of services that help you find the right person within a short time. What's more, it's a place known for the high activity of members and success rates. If you're seeking a committed partner, interesting person, and passionate lover, you better start dating on this site.
User Interface And User Experience
Visit site, look through the options, and try to browse the profiles. You'll see that the interface of this place is just amazing. So, the first impression is quite positive and impressive, and one of the first things to know about it is its user-friendliness. There's nothing challenging to navigate.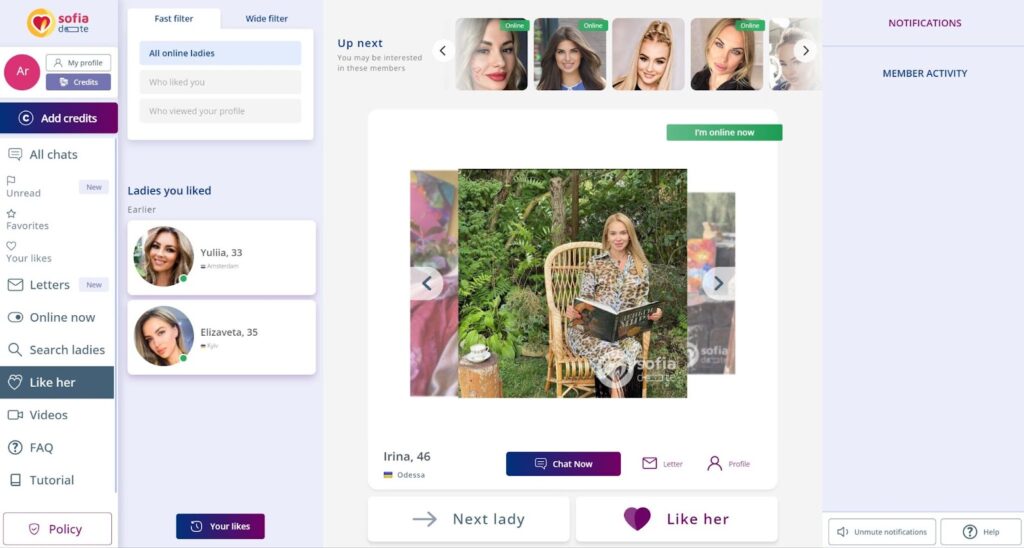 Features and services are at hand on the main page. There's nothing complicated if you want to reach services or communication tools. If you want to learn more about the platform, you can go to the section of the Tutorial. It gives quite detailed information about the site and its features.
How To Sign Up And Create A Profile
If you're planning to create a new account, you need to visit the official website. You'll find the registration form where you'll start the registration process. Here's what you need to know about this process:
Step 1. You'll need to provide information like your name, seeking women, your email address, creating a new password, and your birthdate. Click on the box where it says that you've read its Terms and Conditions. Click on the registration button.
Step 2. You'll be redirected to your main profile page. You'll see a pop-up window, and if you click on How To Start, it'll give some tips on how to start using the site. If you don't want that, you can easily skip this section.
Step 3. The next thing you need to do is email verification. Go to your email address and copy the verification code. By doing so, you'll verify that you registered with your real and own email address. That's all. Now you can start looking for the best matches.
On the main page, there's a link to My Profile. This is your page where you can create an informative profile and add your preferences. This will make your online dating profile more appealing, not to mention that the site will employ matching algorithms to offer suitable profiles to you. On your profile page, you'll find the following sections:
General information where your name, birthdate, country, and city will be indicated;
In the section of About Myself, you'll add information about your marital status, education, children, job, and the like;
Lady You're Looking For is a section where you'll add information about the person you can be interested from her age range to other details;
And finally, Photos is a place where you can add some photos and create your own photo gallery.
If you want to stop using your profile on Sofia Date, you'll find a button, Delete Your Account, which will deactivate your account.
Matchmaking And Communication Services
Lots of profiles are waiting for your attention. All that you need is to look through the possible matches. Or you can benefit from search tools and find the best match. There are filters like age range, education level, occupation, and so on.
Based on the information on your profile page, you'll be offered a wide range of possible matches. Or go to the section Like Her and look through some random profiles of charming women. If you click on Chat Now, you can initiate the communication, and if the lady is free, she'll respond for sure.
You can also send a letter to your lady. It's another way of communication on this website if you're not planning to use live chat. There's even an option for sending real flowers and gifts.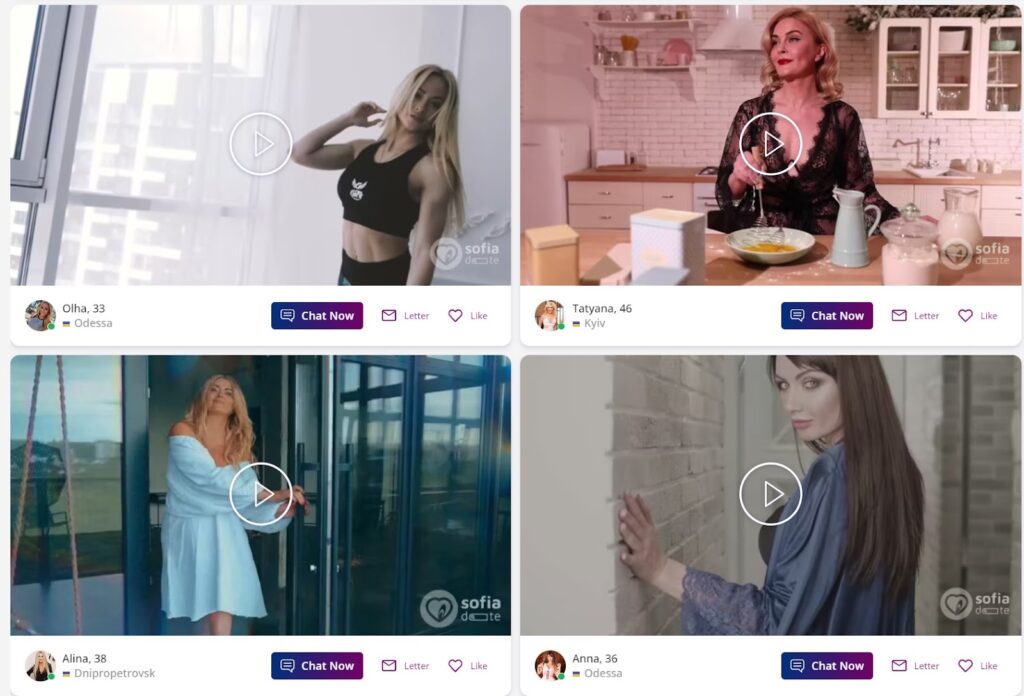 What Do Users Say About Sofia Date?
If you're not sure whether it's your ideal platform, you can look through the real users' reviews and see what people say about this site.
Daniel, 34
I really appreciate the honesty and authenticity in women's profiles. Detailed profiles made it easier for me to connect with the ladies online on a deeper level. I really liked that women provided information like whether they have kids, drink or smoke, work somewhere, and even more. Besides, galleries are just amazing.
James, 22
Once I registered on this site, I really got lost. There are so many charming ladies, and it seems that the next offered profile is more charming than the previous one. Thankfully, I found search filters so that I could narrow down some possible matches. The content on the profiles is really amazing and cool, and I felt that I was visiting the profile of a real person.
Joan, 41
No doubt it's one of the best dating sites I found in recent months. I was looking for people who are interested in finding their soulmates. It's not without flaws, but there's no perfect place that has no flaws. But Sofia Date showed me that it's a place with real women. I noticed that the ladies here are quite social and polite, so I always enjoyed communicating with them. I hope I will find someone special on this platform.
Alternative Dating Sites
Looking for a great website like Sofia Date website? Have a look at the following alternative dating sites that can offer top-notch services:
| | | |
| --- | --- | --- |
| The Lucky Date | A perfect dating website with a wide range of services to find partners for commitment | Newsfeed, free credits, request for contact details, professional customer support team |
| Orchid Romance | A professional dating platform with a large user base from Asian countries | User-friendly interface, amazing profile quality, swipe feature, bonus credits |
| Silver Singles | A great site based on matchmaking services and personality assessment | Mobile app, responsive customer support, advanced search filters |
Safety And Security On Sofia Date Platform
Are you fed up with fake accounts? Afraid of being scammed? Losing your faith in dating sites or apps? Well, if you face such questions and dilemmas, perhaps you didn't hear about the Sofia Date dating website. It's one of the game-changing platforms, and you might wonder what is so special about it. The simple answer is its higher levels of security.
Like many professional dating sites, it employs a variety of software tools to ensure data protection. Additionally, the use of SSL encryption makes it more secure so that you don't need to worry about your payment data. But that's not all you should know.
Profile quality matters here. Sofia Date has made the quality of female profiles better than on many other dating websites. It means you can easily meet real people for dating. Profiles are quite detailed and offer lots of interesting information.
Paid Features And Pricing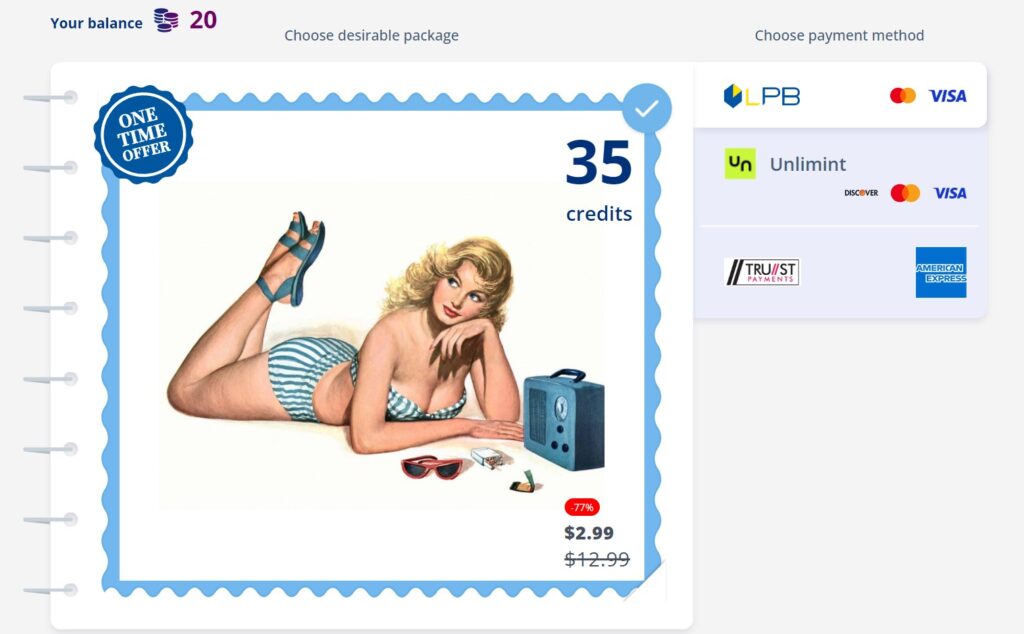 Sofia Date offers its premium services in exchange for credits. It means that you need to buy credits to start using its services. The benefit of buying credits is that you can control how much you can spend. Before considering the prices of credits, let's see what you can benefit from for free:
Free registration;
Sending winks;
Using search tools;
Tutorial section;
Accessing profile information and photos;
Like Her;
List of favorites.
Once you create a new account and get your account verified, you can benefit from free credits that will be assigned to you as a welcome bonus. You can test how everything works and see whether you want to stay here. Then, it's time to consider getting credits, and here's what you can do after buying them:
Instant chat;
Sending/receiving photos;
Sending/receiving videos;
Virtual gifts;
Gift delivery service;
Watching videos;
Arranging a real date;
Writing letters.
So, how much are the services on the Sofia Date website? If you're new to this site, you can benefit from a great offer of $2.99 to get 35 credits. It's just a one-time offer. Then, you'll need to choose your package of credits, and here's what you can choose from:
35 credits for $12;
50 credits for $19;
100 credits for $33;
250 credits for $75;
400 credits for $100;
1,000 credits for $200.
Your package of credits will renew automatically, and if you want to cancel the renewal of your credits, you need to contact customer support by sending a letter to [email protected].
Final Thoughts
Let's sum up everything! Sofia Date is just an amazing website with lots of features and services. It has advanced search tools to find the right match within a short time. Profile quality is what makes it stand out among other platforms. So, if you want to enjoy the companionship of charming ladies, it's time to create a new account.
References
https://www.makeuseof.com/how-to-choose-best-dating-app-for-you/