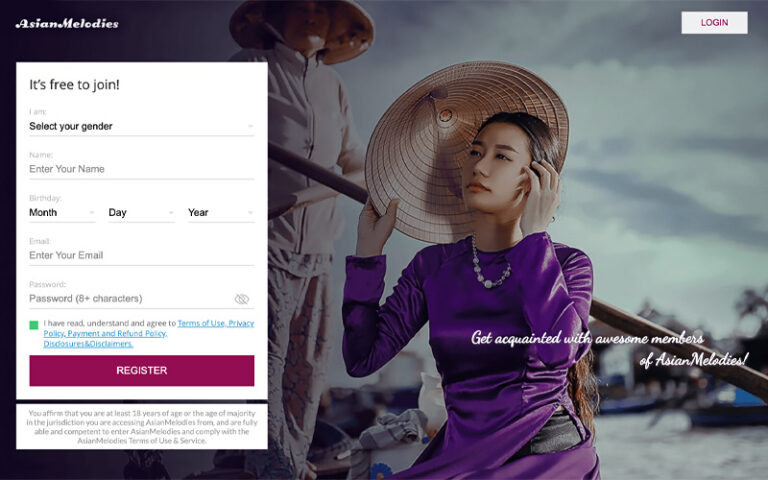 With its roots dating back to 2018, AsianMelodies has swiftly ascended the ranks to become a recognized platform in the realm of international online dating. The platform flaunts a sizable user base with around 99,000 registered members, comprised of approximately 24,000 men and 75,000 women. It is especially revered in countries like Japan, China, the Philippines, Thailand, and Vietnam. Each month, the platform receives a robust inflow of 600,000 visits, indicative of its bustling activity. The age spectrum of female members primarily falls between 21 to 27 years, with an average age of 24. The gender distribution showcases a pronounced female presence with a 68% to 32% women to men ratio. Among the throng of users, around 12,500 women are found to be active online, rendering a vibrant and engaging community for individuals seeking connections across Asia.
Girls online
More than 5200
GOOD FOR
meeting perfect Asian women
E-mail verification and free registration
A reputable site to find a lady for a serious relationship
Easy-to-use features and user-friendly interface
A large user base of cute Asian women with serious intentions
Great services for international communication
Communication is a paid feature
No dedicated mobile app to download
More Sites like
AsianMelodies
:
How to find an Asian woman? Well, you'll need to find a good dating site to meet her, but choosing the most reliable and renowned one can be quite challenging. In quest of finding the right place for meeting real Asian ladies, you can get scammed and disappointed. But is there a platform that won't let you down? Of course, there is. This dating website is Asian Melodies. Now, you might wonder what makes it special.
Asian Melodies website has proven to be an efficient tool for offering a chance for single men to find their soulmates from Asian countries. Through its matching system, you'll find your compatible match within a short time. What's more, its outstanding aspect is its profile quality. Perhaps it's what makes it different from other dating sites. When dating on this online dating website, you can be sure you're communicating with real ladies.
The website doesn't offer any mobile app to date on the go. It doesn't make it less appealing, as there's an Asian Melodies mobile site. It's compatible with all mobile gadgets. But is it a free dating website? No, it's not. Asian Melodies is a professional dating website offering exclusive services in exchange for credits that you'll buy online.
If you wonder whether this place is worth your money, it's really worth it, but let's not rush. With this detailed Asian Melodies review, you'll get a chance to find out more about it. You can look through every aspect of this website and decide whether you want to stay longer. So, let's delve into this review.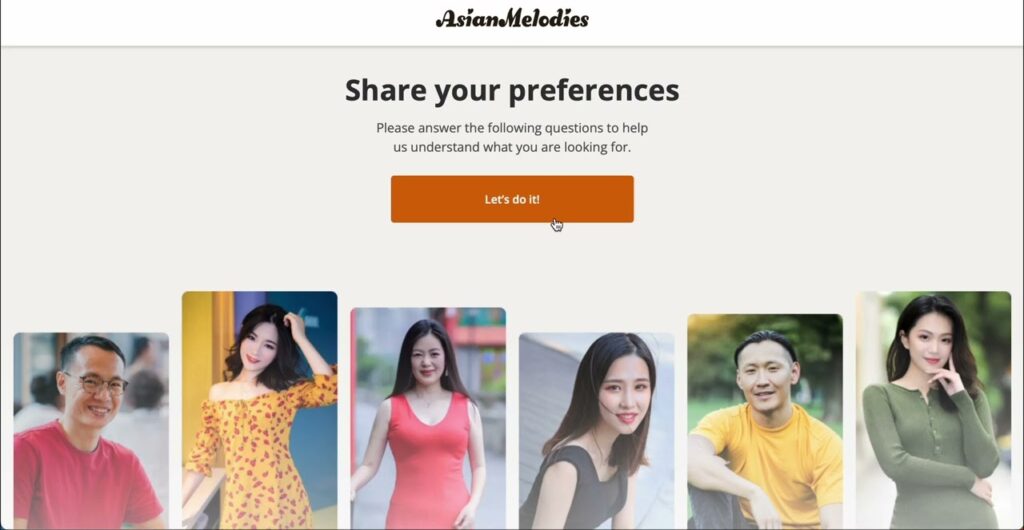 Asian Melodies Dating Site In Brief
Before starting to delve into the details of this review, why not have a glance at some quick insights? Here's what you need to know about Asian Melodies:
High levels of security, profile quality, and amazing services make Asian Melodies legit and reliable for meeting Asian women.
Using AsianMelodies free of charge is quite challenging, yet free credits are given as a welcome bonus for new members.
There are many dating services and communication tools to get closer to your Asian date, yet the website doesn't offer a video chat option to communicate with other users.
The site is known for offering a professional and responsive customer support team that is always online to help you when needed.
When considering the Asian Melodies cost, the platform is higher than average, and the starting price is $2.99 to get 20 credits.
Among free features, you can create a new account, send winks, use the roulette-matching feature, and follow ladies for free.
The website ensures that you won't spend money in vain, so there's a refund in case you're not content with its dating service or something unexpected happens.
On this online dating website, you can send virtual stickers to pamper your lady.
The profiles of beautiful Asian women on this decent dating site are quite detailed.
After spending some credits on your lady, you'll be given a chance to request her contact details if your Asian woman doesn't mind.
So, with Asian Melodies, you'll get a chance to meet and date lovely women from Asian countries hassle-free.
Who Are Really Signed Up on Asian Melodies
One of the best things about this dating platform is that you can meet women from countries like South Korea, China, Japan, etc. The ladies on this platform are not seeking casual encounters. Before you rush to get signed up, you should understand that the female audience on AsianMelodies is into commitment.
It's not ideal for people seeking members from the LGBTQ community. It's just a platform for straight people where men get a chance to meet women online. When it comes to women on this website, most of them have to prove their identity and undergo stricter verification processes. Thus, when visiting profiles of Asian girls, you'll see a blue tick, proving that it's a verified member.
All About AsianMelodies Dating Website
For now, there are more than 560K users. When it comes to a gender ratio, 60% of them are males, and the rest are women. In other words, you'll get a chance to discover a wide range of ladies who are interested in meeting you.
The site isn't one of the oldest platforms. Yet, it's been successful in recent years, continuing to gather single men seeking the attention of traditional and family-oriented women. 
About User Interface And Overall Experience
When assessing this website, one of the first things to mention is its appealing design. First of all, the good news is that you won't be troubled by disturbing ads. The interface is clear and easy to use. Every link and service is easily reachable. After spending some time online, you'll be able to understand this platform better.
Of course, not all services can be accessed for free. There are free credits that you can use to test how everything works. 
Although it doesn't offer detailed filters, you can easily access profiles of ladies who are online. To top up your balance, you can visit the Credits page.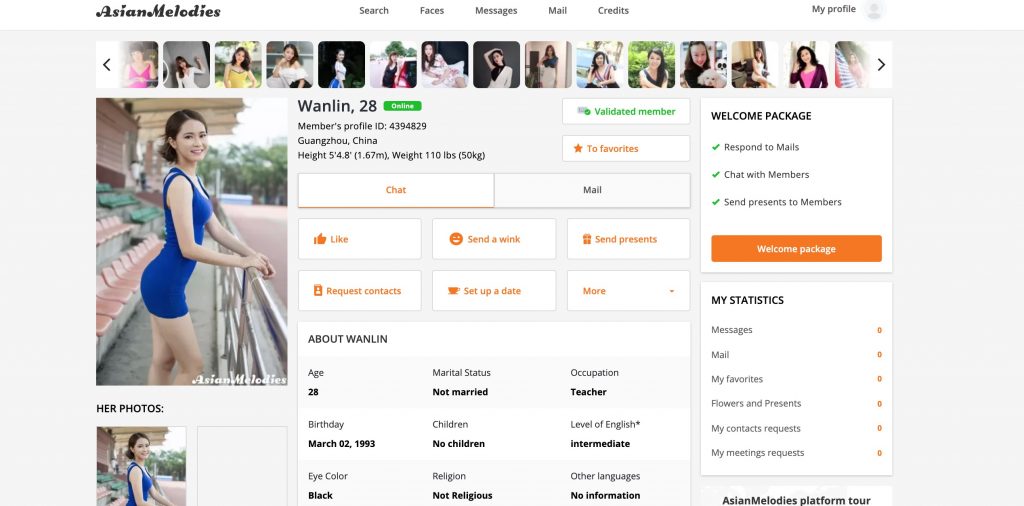 Creating A New Account On The Asian Melodies Website  
It's great that you can access a large database of charming Oriental women after creating a new account on this dating platform. Browsing the profiles of these ladies is free, and most of them will have great galleries to enjoy. This is the first reason to create a new account. 
Registration Process
How to get started? To be able to benefit from the companionship of sexy Asian girls, you'll need to create a new account, and here's how you should do that:
Visit the website. Go to the official website of Asian Melodies, not Asian Melody. You'll discover quite a fancy page with lots of information. Look through the page and learn more about what this site can offer. For example, you can learn about the Refund Policy.
Fill out the form. Once you're done, you'll find a registration form on the same page. You'll be asked to enter information like your preference, name, birthdate, email address, and a reliable password. Then, you'll be redirected to the next page.
Answer some questions. These are quiz questions that can help the system understand you better. But if you wish, you can easily skip all of them. You don't need to answer all of these questions. You can provide such information when building your profile.
Get your account verified. After skipping the questions, you'll be redirected to the site's landing page. Now, it's where you can control and reach everything. Before you start searching for ladies, you should visit your email address to click on the link that'll be sent to you.
Note that getting your account verified will give you a chance to get more extra credits. 
Profile Building
We know that you're impatient and want to start searching for ladies. No rush. There's still something to be done. You should have a catchy profile. Click on Your Profile and press on Edit Profile. Then, you need to start filling out the following fields:
BIO. This is where you can add information about your city, marital status, English level, and other languages.
About. In this section, you'll indicate information about your traits, hobbies, favorite movies, and music.
Looking For. This is where you can indicate what type of person you are interested in.
Story. Time to be creative. You'll write a short story or description, so make sure it's appealing to ladies online.
Don't forget to upload a profile photo. Once you're done with profile building, you can search for an ideal match on this dating site.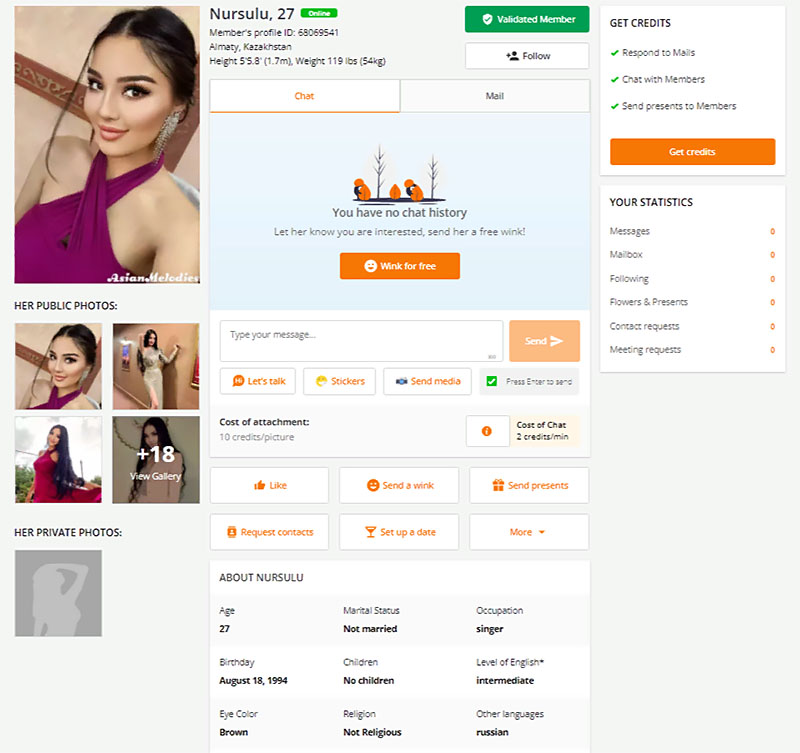 Matchmaking And Communication Services
How to find someone special among female members? Well, you can benefit from a basic search that allows you to find a particular member based on her country, age range, and online activity. But that's not all you can use. There are other ways of meeting and getting in touch with members.
One of the best things to try is People. This is a page where you'll be offered ladies in roulette-matching style, reminiscent of the Tinder-swipe feature. Or you can go to the Newsfeed page that offers posts of Asian singles.
When it comes to communication, there's no video chat service. Yet, there's a chance to exchange videos via live chat service. Besides, you can send emojis and stickers. Sending winks is free, so you can send one of them to get the attention of your Asian lady.
Is Asian Melodies Legit And Safe?
To call any dating site legit and safe, it's important to look through popularity, services, and profile quality. So, is it a real dating site that can help you find the right person for dating? Of course, it's a real place that can even exceed your expectations.
One of the most striking features of the website is its customer support. It doesn't matter whether you're a paid or free member; the support team is always there to help you. They can help you with everything from the AsianMelodies sign-up process to problems with suspicious accounts.
It's also important to highlight that much is done to ensure that the beautiful women you meet on this site will be real people. Thus, they're carefully reviewed by the site. On a female member's profile, you can find more information than on the profile page of males.
Alternative Dating Sites
Why will someone want to date on Asian Melodies? It offers amazing profiles, a great matchmaking system, a mobile-friendly dating website, and great online communication features. Of course, it's not the only dating website that can offer similar quality. You can try your luck with alternative platforms:
| | | | |
| --- | --- | --- | --- |
| Eastern Honeys | One of the top dating sites offering ladies from Asian countries for committed bonds and serious relationships | Newsfeed, communication features, free winks, creating a list of favorites | Visit Eastern Honeys |
| Elite Singles | An amazing dating app for those seeking the help of an advanced matchmaking system based on your personality | Professional support team, a wide range of singles, top-notch services, lag-free dating app | Visit Elite Singles |
| Silver Singles | One of the best dating platforms where senior singles get a chance to find their halves based on the advanced matchmaking system | Personality test, a wide range of tools, detailed profiles, dedicated mobile app, advanced search filters | Visit Silver Singles |
Paid Features And Pricing
One of the points of this AsianMelodies review is to demonstrate the prices of its services. This website doesn't offer any subscriptions. Instead, you need to get credits, so your spending will be up to you.
How Much Does Asian Melodies Cost?
Before buying them, don't forget that free credits are given as a welcome bonus. Then, the first purchase of 20 credits will cost you just $2.99, which is a discounted price. Then, you need to consider buying one of the following packages:
$9.99 – 20 credits;
$19.99 – 50 credits;
$44.99 – 125 credits;
$69.99 – 250 credits;
$149.00 – 750 credits.
So, all you need is to pick the package that suits you most, and don't forget that your balance will top up automatically.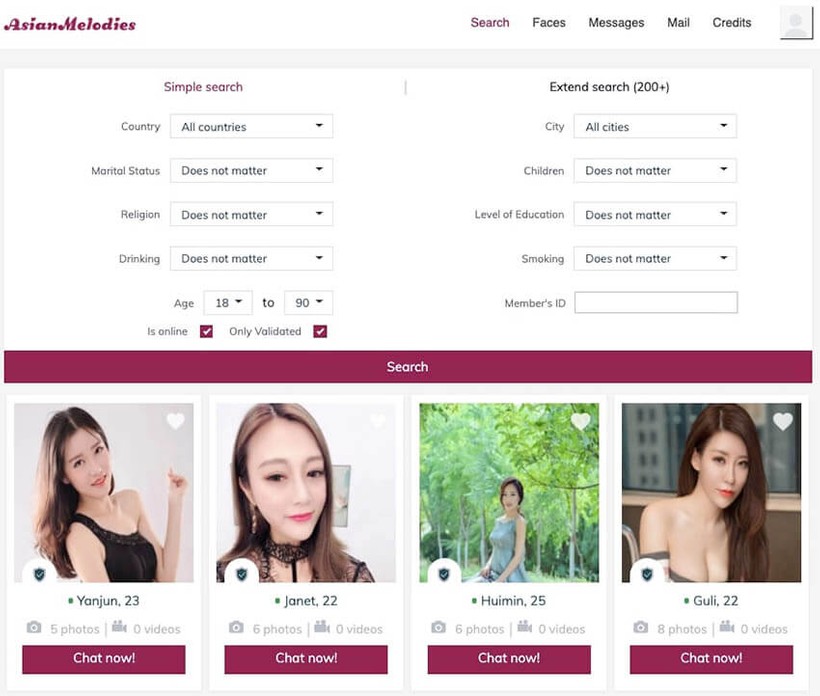 Paid Features
What kind of privileges do paying members get on this dating website offering a credit system? Well, there are plenty of cool services you need to know, and here are the main ones:
Sending letter;
Live chat;
Sending stickers;
Virtual gifts;
Getting access to video content.
Paid members can access exclusive services like arranging a real-life date.
Free Features
It's not right to say that there's nothing free except the registration process for Asian Melodies. Well, there are some cool features offered for free. Here are some of them:
Search tool;
Swipe feature;
Customer support;
Newsfeed;
Favorites;
Winks;
Profile Browsing;
Public photos.
So, free members are not without their privileges when dating online.
Security Measures 
One of the main things that the website tries to deal with is fake profiles. Although female profiles are constantly monitored, it happens that you can come across some suspicious profiles. You can easily get in touch with Asian Melodies customer support. Or you can easily report that account.
Although it can be challenging to monitor such an extensive database of females, much is done to ensure that a woman's profile represents a real person. In addition to eradicating fake accounts, the platform ensures complete data protection with the help of encryption technology.
Final Thoughts
Looking for a chance to find someone from an Asian country? Well, there's a website like Asian Melodies that can help you with that. Just a few clicks might be enough to meet your special person. So, why not start changing your life right now?
FAQ
Is it really possible to find true love on AsianMelodies?
According to 2022's data, 25% of AsianMelodies users found a long-term partner, indicating a 5% increase from the previous year. This trend mirrors the broader online dating scene, where 20% of current, committed relationships began online, suggesting that AsianMelodies can be a promising platform for finding true love.
What is AsianMelodies?
AsianMelodies was established in 2014, designed as a dating platform for individuals interested in connecting with Asian singles. As of 2023, it boasts a vibrant community with 1 million registered members, a significant number of whom are located in China and Vietnam. The site is multilingual, offering services in English, Mandarin, Vietnamese, and Thai. AsianMelodies operates on a credit-based system, which appeals to those seeking both casual dating and serious relationships.
Who is the main female audience of AsianMelodies?
The main female demographic on AsianMelodies is women aged 22 to 34 from Asian regions, particularly from China, Vietnam, and Thailand. These women often seek serious relationships, with recent figures showing that 70% of the female users are searching for long-term commitment or marriage.
Is AsianMelodies a popular dating website in Asia?
AsianMelodies is gaining traction in Asia, with 60% of its users based in the region. The platform averages 250,000 active Asian users monthly and has seen a 15% growth in registrations from Asian countries over the last year, reflecting its rising popularity and the effectiveness of its engagement strategies in Asia.