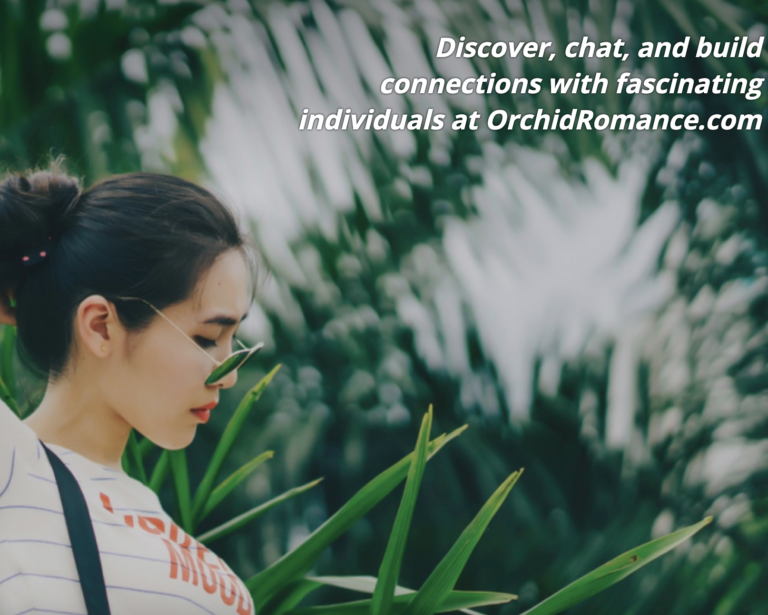 OrchidRomance online dating site is a great opportunity for singles interested in dating Asian women. It's a professional Asian dating site that's trusted by thousands of people. But what's so special about this place, and what makes it stand out among other dating sites? Well, there's a lot you can discover when you start dating here, but to know all the insights about it, you can reveal much with this OrchidRomance review.
An appealing design, user-friendly interface, and exciting features make this online dating site worth your attention. In addition, don't forget about the large user base of Asian women seeking your attention. There are single men from countries like the US, Canada, Australia, and the UK who are interested in meeting and dating Asian ladies online.
Girls online
More than 4100
GOOD FOR
large user base of Asian women seeking your attention.
Professional customer support team
A wide range of ladies from Asian countries
Profiles with informative profile details
A variety of interesting tools
Convenient chat rooms with great tools
Matchmaking service
Not so many free services
No downloadable OrchidRomance dating app
More Sites like
Orchid Romance
: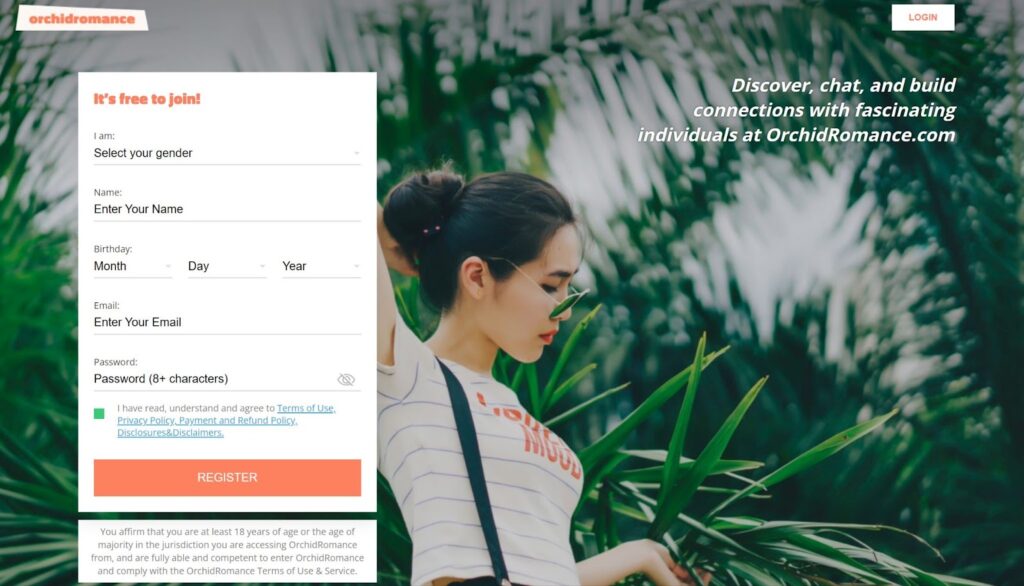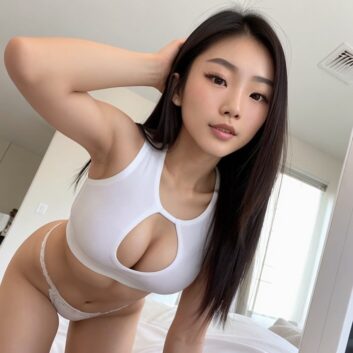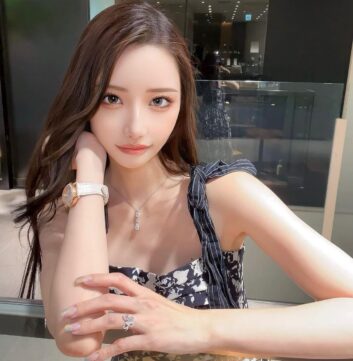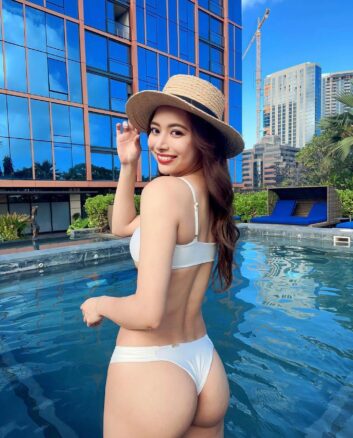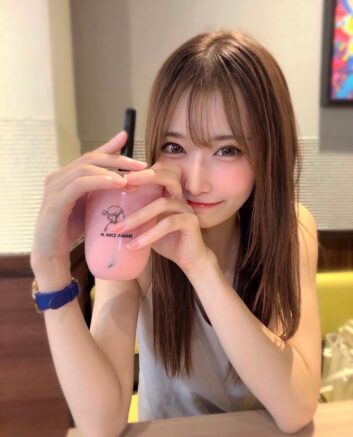 Most Popular Choice 😍
Among the top online dating sites, OrchidRomance stands out with its top-notch quality, and before delving into this review, have a look at some insights you should know:
It's a dating website tailored to single men looking for Asian women.
OrchidRomance online dating site offers is designed to connect people looking for serious relationships.
This website has no subscriptions, so you must buy credits to use exclusive services.
The starting price of 20 credits is $2.99, which is a one-time offer for new users.
New users can benefit from a welcome bonus of 20 credits to test services for free.
Orchid Romance is known for its impressive profile quality and quite detailed female profiles.
The website offers a chance to request contact details and arrange a real date with your partner.
Communication on this online dating website isn't offered for free, so only paying members can benefit from it.
One of the best things about this place is that it offers refunds in case you're not content with the paid services.
Orchid Romance doesn't offer a mobile app, but it's a really mobile-friendly dating website.
Overall, it's a perfect website where you can find your future Asian soulmate within a short time. This is where your perfect online dating experience is guaranteed. Let's uncover more details about the OrchidRomance dating website.
 Who Are Really Registered On Orchid Romance
To understand whether it's a good dating site or not, it's important to know the audience of that website. In the case of the OrchidRomance dating site, it's great to discover a wide range of Asian women. For now, there are more than 600K users, and the majority of women on this website have been verified.
If you're particularly interested in meeting and dating Chinese, Vietnamese, and Thai ladies for commitment, you'll definitely like dating on this platform. Besides, the website is also known for high activity online, so there's a high response rate.
All You Need To Know About Orchid Romance
If you want more than a pleasant online dating experience, you should be able to find a real match on this website. You should send as many likes as possible to get the attention of the one who suits you most. No need to limit yourself to a single woman, as you might want to explore all possible matches. Don't forget that you can send virtual stickers to any lady who tickles your interest. 
User Interface And User Experience
The first impression of this site will be awesome, for sure. The site is quite appealing, and everything is in its place without any disturbing ads. Simplicity and appealing design make this platform even better, but the best thing is definitely its interface.
It's not challenging to navigate the site, and all services are located on the main page and are easily accessible. On the top of the main page, you can find services like Search, Messages, Mailbox, Newsfeed, People, and Credits. There'll be lots of profiles offered on this page, and you can easily access filters to narrow down your possible options.
How To Sign Up And Create A Profile
If you're ready to create a new account, it's time to consider signing up. The process is quite simple and free, and within 5 minutes, you'll be able to start dating charming women on this platform.
The Registration Form
Once you're on the main page of the site, you'll see the registration form. It doesn't require you to provide too much information. Here's what you need to select:
Gender;
Name;
Birthdate;
Email address;
Password.
Then, you just need to click on the registration button. You'll be redirected to the next page, where you'll be offered to answer the quiz questions.
Profile Creation
Don't forget the quiz is skippable. No need to focus on it, as you can focus on your profile to make it more informative. So, go to the profile page and start filling out the following sections:
BIO. This is where you provide basic information about your age, name, country, and the like.
About. The next step is to provide some basic information about your traits, hobbies, movie genres, and types of music you like.
Looking for. This is a section where you indicate your preferences. Specify what type of women you can be interested in.
Story. It's time to be creative. Write a short description of yourself.
Photos. Why not create your own gallery? Upload some photos to make your profile more appealing to Asian ladies online.
After filling out the profile, you can be sure that you'll get a higher chance of meeting someone special. In other words, your profile image will determine your success on this website.
Verification And Bonus Credits
Finally, don't forget that you need to get your account verified. Visit your email address and click on the verification link. Without verification, you won't be able to benefit from the service of the Orchid Romance dating website. What's more, you'll get some credits as a welcome bonus.
Matchmaking And Communicating Services
Based on the information on your profile page, you'll see profiles of Asian girls. Every profile shown on the main page will have a chat button. Just click on it, and you'll be redirected to the chat room, where you'll see all the buttons and tools you need.
You can send a message to start online communication. There's a chat invitation like Let's Talk. You can also see such tools as the following ones:
Emojis;
Stickers;
Gifts;
Media (photos/videos).
There's an option for sending winks or Say Hello. Before you start communicating with your Asian lady, you should know that you must get credits. What about search tools? Is it possible to search for any person manually? Well, the Orchid Romance website doesn't offer extended search filters. So, you should rely on matches offered by the website.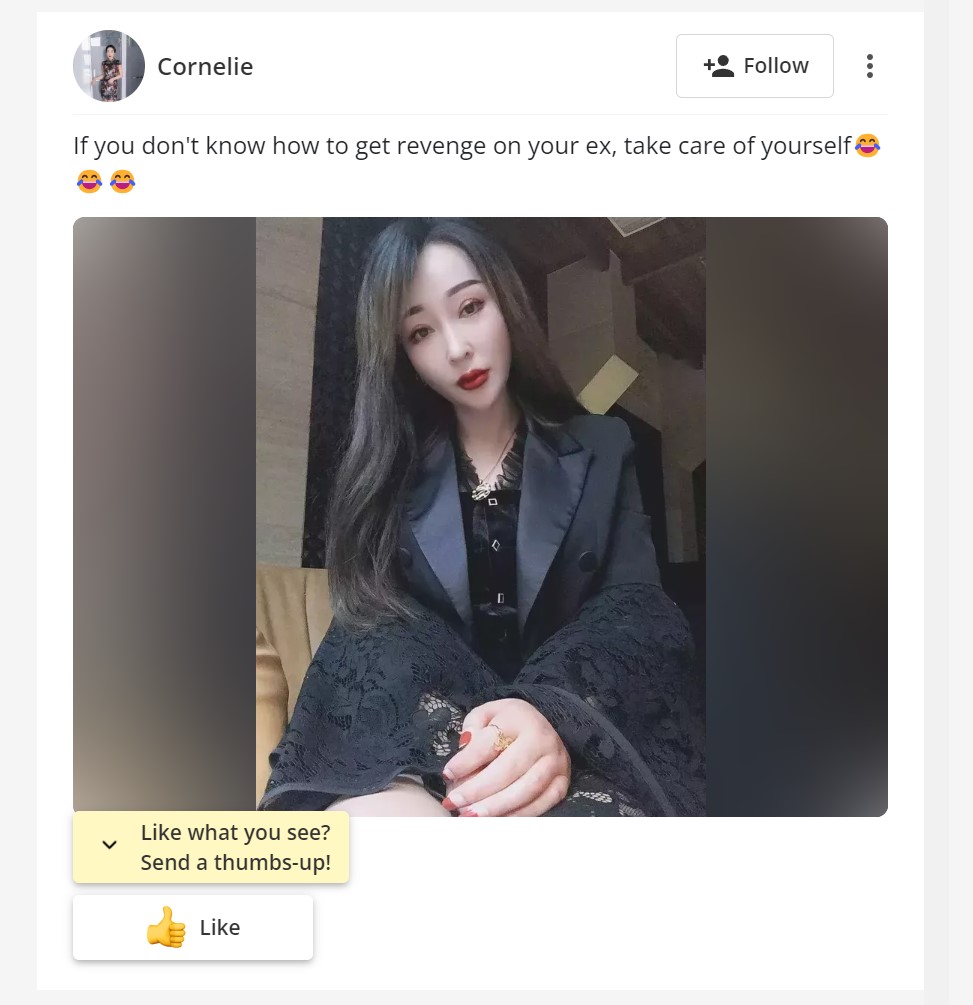 What Do Users Say About Orchid Romance Dating Site? 
No doubt, Orchid Romance is one of the top online dating platforms where you can meet real women for commitment. What about Orchid Romance reviews of real users? It's time to learn more.
Thomas. 34
I don't think that I could have found a better place than this Orchid Romance. It's a combination of excellent quality and a large user base of real women. I didn't believe that dating platforms could offer a chance to build connections with real people until I found this place. Now, I'm looking forward to meeting my future soulmate on this dating platform.
Ron, 43
It's been more than 6 months since I registered on the OrchidRomance dating website. Nothing was complicated. Within a short time, I managed to start browsing profiles. Thanks to the profile quality here, a proper online dating experience is what I got, not to mention the customer support team was polite, kind, and responsive. Besides, I liked that profiles on this website have so many personal details.
Anton, 33
This dating website pleasantly surprised me with its unique yet simple interface. Although simple, the interface is quite functional, and there are plenty of interesting services. I liked spending time at the Newsfeed section where women share lots of interesting things. But ladies here are much better. They're friendly, polite, and quite social. They like communication.
Is It A Legit Dating Website?
Now that you know more about this place, the question of the legitimacy of Orchid Romance is undoubted. It's one of the top reputable and professional international dating platforms connecting Western men with Asian singles for meaningful connection. It's even a good place for those seeking a woman for marriage.
Thus, much attention is given to ensuring a secure environment for the online dating experience. Female members are carefully checked and verified to ensure that you'll be dating and communicating with real ladies on this website.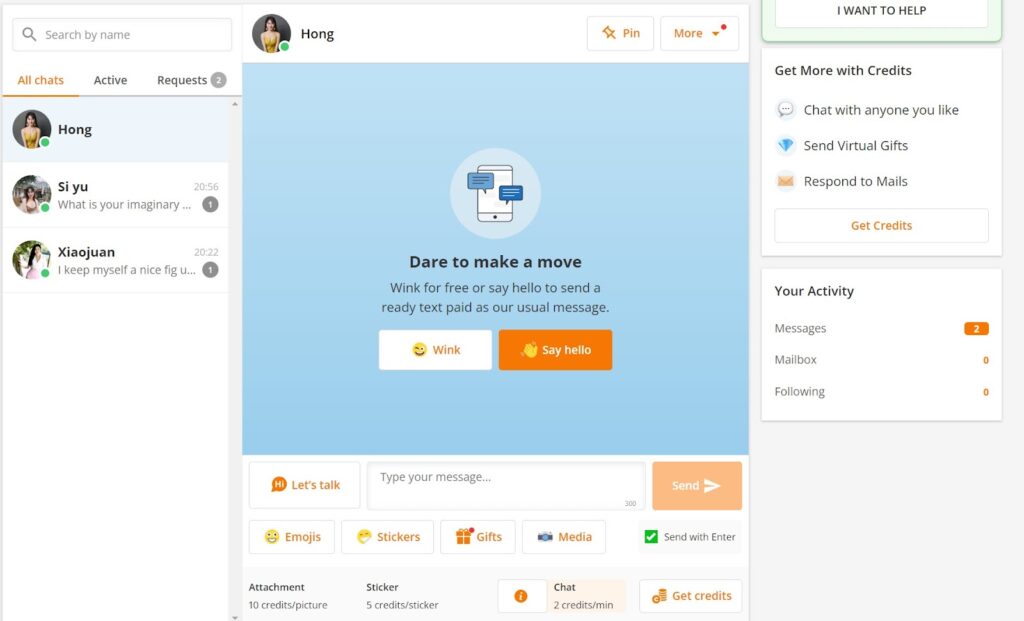 Alternative Dating Sites
Orchid Romance is undoubtedly a perfect place where you can meet charming foreign women. But it's not a platform that doesn't have alternatives. Have a look at some cool sites offering similar services:
| | | |
| --- | --- | --- |
| The Lucky Date | The top international dating website for committed bonds | Disappearing photos and videos, professional support team, online communication tools |
| La-Date | A perfect website for real connections with women from Latin America | Refund policy, instant chat, favorites, roulette-matching game |
| Sofia Date | A professional website for singles interested in Slavic girls | Videos of real women, Tutorial section, sending winks, communication services |
Paid Features And Pricing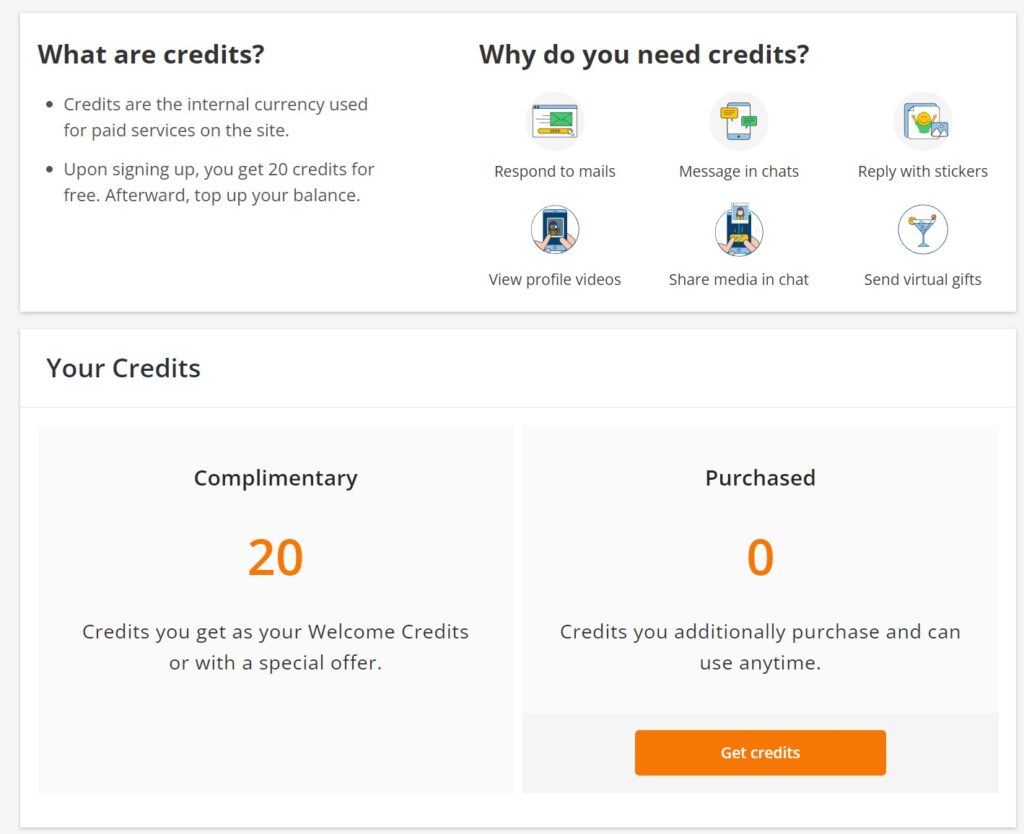 Since it's an exclusive dating website for people seeking commitment online, this platform is not completely free, so you must buy credits. Before buying any credits, have a glance at the services offered for free:
Registration process;
Creating a profile;
Creating a list of favorites;
Matches;
Using search tools;
Browsing profiles;
Using Newsfeed and People.
You can also send winks for free. To start communication, you'll need to get credits, and there are several packages to consider. Here's what you can get with credits:
Virtual stickers;
Live chat;
Sending real gifts;
Sending or receiving media content;
Sending letters;
Real flowers and gifts.
Now, it's time to consider the costs of these credits. The first purchase of 20 credits will cost you $2.99. Then, you should consider one of the following packages:
$9.99 for 20 credits;
$19.99 for 50 credits;
$44.99 for 125 credits;
$69.99 for 250 credits;
$149.99 for 750 credits.
Safety And Security On Orchid Romance
You can be sure it's one of the safest dating sites, and you won't spend your money in vain. First of all, keep in mind that Orchid Romance employs various software tools to ensure complete data protection. What's more, there's encryption technology for better security measures.
The site administration and customer support constantly monitor online activity to eliminate fake accounts to ensure top profile quality. In case you face a problem with suspicious profiles, you can either block or report them.
Final Thoughts
If you're into Asian women who are interested in committed bonds, then this online dating destination is what you need. Although it's a paid platform, this online dating website is worth every cent you spend on its services. So, why not try it out?
FAQ
What is OrchidRomance?
OrchidRomance was established in 2018, envisioned as a platform for individuals interested in dating Asian singles. Currently, it hosts over 5 million registered users, with the majority being located in China and Thailand. The website is multilingual, offering services in English, Mandarin, and Thai. OrchidRomance operates on a credit-based system, allowing members to purchase credits to use for messaging and advanced features, appealing to those seeking serious relationships and cross-cultural connections.
Is OrchidRomance a popular dating website in Asia?
OrchidRomance boasts substantial popularity in Asia, with 75% of its users based in the region. The site averages 600,000 active Asian users each month and has noted a 20% growth in new Asian memberships over the last year, demonstrating its expanding presence in the Asian dating market.
Who is the main female audience of OrchidRomance?
The core female audience of OrchidRomance is women aged 21 to 35 from countries like China, Thailand, and the Philippines. These members are typically looking for long-term relationships and possibly marriage, with data showing that 65% of the female user base fits this age and intention profile.
Is it really possible to find true love on OrchidRomance?
As per the 2023 data, OrchidRomance has seen a 30% rate of users finding meaningful relationships, with a 10% increase in successful matches year-over-year. This aligns with the trend that approximately 39% of heterosexual couples in 2022 reported meeting their partner online, which suggests that OrchidRomance can be an effective avenue for finding true love.