How to Talk to Girls in China? Simple and Useful Tips.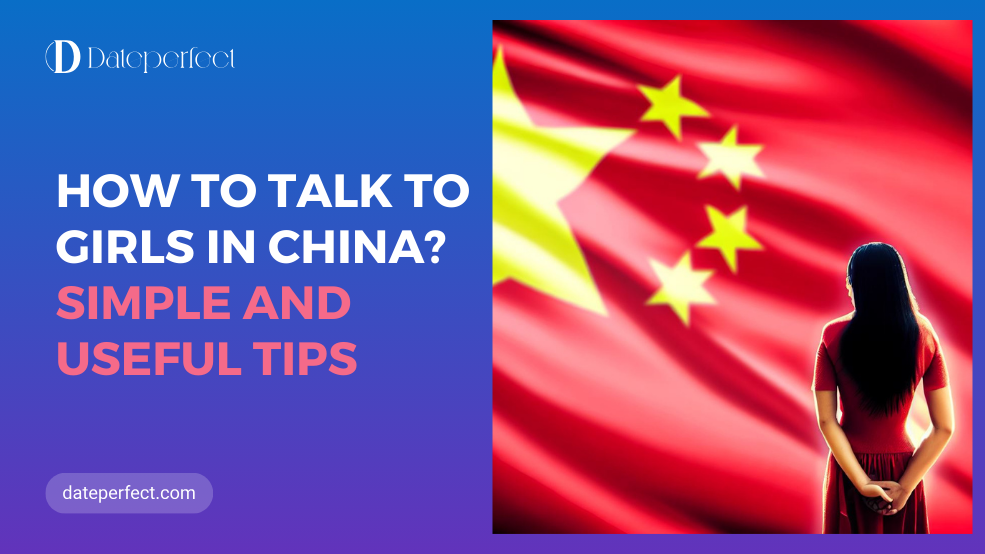 Don't assume that Chinese girls are shy and reserved. They have their personalities, and some might even approach you first. Learn more about how to talk to Chinese women in this article. You will discover they are not all the same, and every girl has something unique to offer. Read these simple tips based on our best dating experts' thoughts.
Make a Chinese Girl Focus on Your Personality
You can ask a young Chinese woman to share her latest post on WeChat or Facebook. This will help you learn more about what she likes and does, and you might find some common ground.
For instance, if this Chinese girl is interested in Jennifer Aniston, a famous American actress. You only know a few movies with her in them. It's not a big deal! You can start the conversation with, 'I enjoyed watching the Morning Show with Jennifer Aniston. How about we watch this movie together right now?' This is a good moment to break the ice.
Be yourself, and don't try to impress her too much. Chinese girls appreciate honesty and authenticity, so don't act like someone you're not. Be confident but not cocky, and show her your personality, humor, and intelligence.
Make a Chinese Woman Compliments!
If you want to impress a Chinese girl, you need to let her know how much you appreciate her beauty. But don't just use generic compliments like 'You have beautiful eyes.' You need to be more specific and notice the details she put into her outfit or makeup today.
For example, if you see a Chinese woman wearing a bright color that suits her, you can say, 'The pink color of your clothes matches your skin tone very well. I like how you coordinate your colors.' If she prefers more basic colors like gray, white, or black, you can say something like, 'You have a very classic style that I admire a lot.' She will think you are attentive and have a good sense of fashion.
Chinese women like to get sincere, respectful, and specific compliments. Don't focus just on their beauty! Think about their personality, actions, or achievements rather than just their outfit.
Try to Speak a Chinese Girl Her Language
Chinese women appreciate foreign men speaking their language, at least when they say a few words or just a greeting, '你好,' which means 'Hi.' Oh, guy, don't be shy! If you even know nothing, just ask this Chinese girl how to say, 'Nice to meet you?'. She will be gladly surprised.
Sure, it's not a secret that Chinese girls can speak English very well, but they are so proud of their country and language, and there are many reasons why you need to use this tip:
It shows respect and appreciation for traditional Chinese culture and her identity. Chinese women are proud of their heritage and cultural backgrounds, and they will be happy to see that you are interested in improving your language skills and discovering China.
It helps you communicate better and avoid cultural differences. Chinese is a complex and rich language, with many nuances and subtleties that can help you express feelings more deeply, touching one or another important aspect of your behavior.
It makes you more attractive and charming compared to Chinese men. Chinese girls are impressed by foreigners, especially Western men speaking their native language and showing intelligence and dedication during dating. They like it when a non-Chinese guy makes witty jokes, compliments with sweet words, or surprises with romantic gestures.
So, you guys should remember that Western dating culture differs a bit from the Asian one. But don't be downhearted! Use these tips and your own set of the best skills in talking to pretties from China, and you'll see how Chinese guys will be overshadowed! 
Chinese Women Appreciate Your Care
An ordinary Chinese female adores when foreign men, during a date, pay attention to their personal lives. If you meet an attractive Chinese girl in person, ask more about her normal routine and try to talk more about her internal world.
Never focus just on sex! It can be abusive. If you want to pick a girlfriend for a long term relationship, you need to express your care toward her and her current problems. Ask if your Chinese lady needs any help. When you are together, surprise her with your traditional food, so she will appreciate your culture the same way you respect her.
Show your future Chinese girlfriend your care and support by asking how you can help her with any issues she faces at work or in normal life. You can also bond with her by sharing your own similar experiences. If she has some fun plans for the next day, ask her to send you some photos or tell you how it went.
Is There Any Point You Should Never Talk About? 
Chinese girls in some major cities are old-fashioned in terms of the sex issue. This is because Chinese people often don't allow girls to talk to people from another country, be influenced by a foreign culture, date them, or think about marriage. You'd better not talk about some important points during a date with a Chinese girl.
Escape rudimentary phrases while talking to her. Don't just say 'Hi' or 'Hey' and leave a girl hanging. Chinese women don't get turned on by it. Be more creative and start with a catchy opening line.
Don't ask her anything sexual, especially if this is your first date. Don't ask her to go home with you during the first talk. Chinese women normally send you to hell, after all. Be respectful. It is not common in this country. If you are interested in a long term relationship with an attractive Chinese woman, use smart and intelligent tips to break the ice.
So, fellow, catch your moment and never break! Despite being a foreigner, talk with Chinese women bravely with the knowledge of their culture, pay attention to their looks and internal features, and be attentive and careful. Chinese men will always be backward!
FAQ
What Can Touch Chinese Girls?
If you want to impress a Chinese girl, be a good listener. Be yourself and be confident in conversation. Ask about herself, like her favorite food and places to go, or learn about her person or friends. If a foreigner wants to win the heart of a lady from China, he should be attentive and engaging. Show interest in her internal world and personal life.
In What Age Is the Date Allowed in China?
The dating age in China is 14 years old. If you want to be the boyfriend of a Chinese girl and are thinking about marriage, you better start your conversation by asking her Instagram or WeChat account to know her age.
Is Dating with Chinese Women Legit?
Dating is allowed in China. For Chinese girls who are Western-influenced, you can talk like friends in the first place, but if you date a traditional female person from China, you need to take each meeting and conversation seriously.