Smile Dating Test: What's the Secret of its Popularity?
In the expansive universe of online quizzes, one interactive activity has taken the digital world by storm: the Smile Dating Test. Visit an original Korean website, and you'll see that it's not just a typical, run-of-the-mill personality test; this quiz has transformed into a global sensation, captivating the hearts and minds of individuals around the world.
With its origins rooted in Korea, this smile quiz transcends cultural barriers and physical borders, offering a universal appeal that resonates with people from all walks of life. But what makes it so special? Why has this particular test managed to capture the collective imagination of internet users across the globe? Let's explore together!
How Does it Work?
The distinctive allure of the Smile Dating Test resides in its smart fusion of simplicity, enjoyment, and introspective insight. At its core, the test is an easy-to-use questionnaire that helps you uncover your dating style.
The test presents you with various real-life scenarios and observes your reactions, choices, and emotions. For instance, what's your go-to activity when you have no plans for the weekend? How do you respond when a friend shares their success story? What's your strategy when setting out for a blind date? These questions are curated to subtly explore your personality nuances, with a particular emphasis on your dating persona.
At the end of the test, you're assigned a color-coded smiley face character, each representing one of the 16 Myers-Briggs Type Indicator (MBTI) personalities. The MBTI, a psychological framework revered in personality tests, categorizes individuals based on their cognitive functions.
These cognitive functions signify how one perceives the world, makes decisions, and interacts with others. Therefore, the smiley character assigned to you isn't merely a color or an arbitrary category. It symbolizes a specific MBTI personality type, providing a snapshot of your dating style.
Decoding
For example, if the test assigns you the gold smiley face character, it suggests that you align with the ENTJ MBTI type, known for being direct, adventurous, open, and goal-oriented within the relationship. A rose-red smiley character represents an ENTP type, indicating a dating style characterized by energy, positivity, and adventure. The test presents a visually appealing and engaging approach to gain insights about your dating style.
It's worth noting that the Smile Dating Test does not claim to be a 'love tester.' It doesn't promise to gauge your attractiveness or predict the fate of your current relationship. It doesn't make grandiose claims about defining your love life or determining your romantic destiny.
Instead, it offers a delightful, engaging, and insightful exploration of your romantic feelings. It provides a perspective to understand how you approach dating and, consequently, how potential partners may perceive you.
The inherent charm of this test lies in its simplicity. It doesn't demand profound introspection or intense self-analysis. Unlike several other personality tests, it doesn't delve into complex psychological theories or intricate personality matrices.
It presents a series of relatable questions and assigns a color-coded smiley face as a result. So, whether you are searching for some fun or looking to discover more about your dating style, the Smile Dating Test offers a unique experience, making it go viral on various platforms like TikTok with numerous videos from users. Share your results with friends, relate to their experiences, or find your perfect match – the possibilities are endless with this smileys test.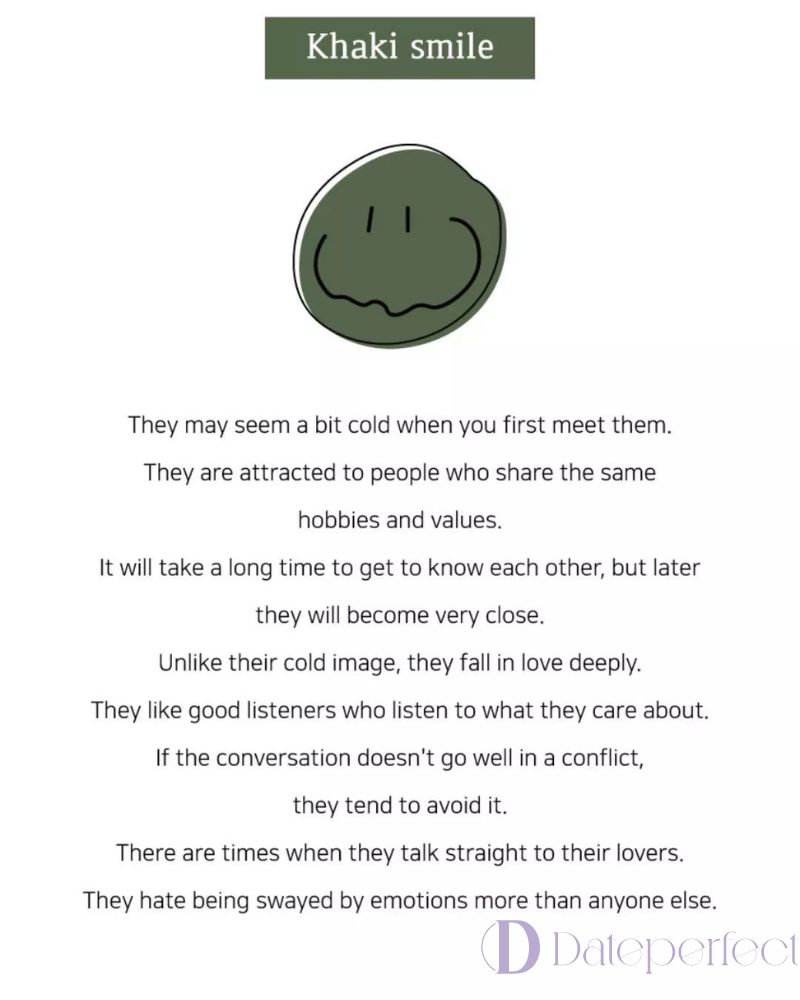 Viral Status
This combination of fun, simplicity, and self-discovery has catapulted the Smile Dating Test into global recognition. Its popularity on social media platforms like TikTok, where TikTok users frequently share videos of their reactions and responses to the quiz, underscores its universal appeal. The viral status of this smile quiz isn't merely the outcome of an innovative approach to personality analysis; it's also a reflection of our inherent curiosity about ourselves, especially regarding romantic relationships.
In today's fast-paced digital era, where introspection often takes a backseat, the Smile Dating Test provides a swift, entertaining, and insightful avenue for self-discovery. It allows us to gain a better understanding of our romantic inclinations, our attitudes toward love and dating, and how these elements might shape our interactions with our current or potential partners.
What about Compatibility?
Ah yes, the Smile Dating Test adds another layer of engagement by offering insights into compatibility. Along with revealing your dating personality via a colored smiley face, it also indicates which other smiley faces you're likely to match perfectly with.
This feature increases the fun element, encouraging many users to share, compare, like, dislike, and comment on their results with others. It also introduces a real-life application aspect, inciting thoughts like, 'Could understanding my dating smiley face character help me find a more compatible partner for a serious relationship?' or 'What kind of smiley face would my perfect match have?'
The Smile Dating Test is more than just a passing trend. It embodies the power of digital tools in the era of app based online quizzes, where a simple quiz can cultivate a sense of community, stimulate insightful conversations, and even influence our perceptions of our dating style and relationships.
As users share their results across social media platforms and in video comments, they're not just partaking in a fun activity but are fostering connections and discussions centered around self-awareness and personal growth.
Final Thoughts 
The success of the Smile Dating Test also highlights the wider societal interest in comprehending personality types, particularly in relation to romantic relationships. Its link to the MBTI system introduces a degree of psychological intrigue, offering a connection point for those already familiar with the MBTI framework.
For those new to this concept, it serves as a gateway into further exploration of personality typologies. Thus, the result is a test that engages users on multiple levels – as an enjoyable activity, a tool for self-discovery, and a potential catalyst for deeper psychological exploration.
The Smile Dating Test is a stellar example of how digital tools, like this particular app, can reveal fresh perspectives and insights into our personalities, especially in the context of romantic relationships. Its blend of simplicity and deep psychological insight has resonated with a global audience, making it a viral sensation.
As we navigate the complex world of dating and relationships, tools like the Smile Dating Test offer a light-hearted yet insightful way to better understand ourselves and those we choose to connect with. But don't just take my word for it. Try it yourself!You can find the Smile Dating Test on the Korean website. You don't have to search for the test by yourself; just follow this link ktestone.com. Answer the questions, and let the colored smiley faces reveal your dating personality.