Embarked on its journey in 2005, Japan Cupid has established itself as a leading portal for dating, amassing a substantial membership of 700,000 individuals. The platform primarily facilitates dating between white men and Japanese women, gaining traction not only in Japan but across the globe. With its inception under the reputable Cupid Media network, Japan Cupid stands as one of the 35 niche dating sites operated by the network, collectively boasting more than 35 million members worldwide.
Girls online
More than 3100
Strict verification rules and great profile quality
A reputable dating website offering a chance for serious bonds
Advanced matchmaking system and detailed search filters
Quite active and responsive Japanese singles online
A great mobile dating app for Android users
Free members can't send unlimited messages
Not so many services are offered for free
More Sites like
Japan Cupid
:
Do you find it quite difficult to connect with Japanese singles? It happens, and you're not alone in finding the right place to meet and date ladies from Japan. Just google Japanese online dating sites, and you'll discover hundreds of options claiming to be ideal for you. But don't rush to click on any link, as we are ready to offer a dating platform that won't let you down. Japan Cupid dating website is what you need for sure.
It's not only a dating platform where you can access profiles of Japanese women, but it's also a great one that ensures you'll meet real women. And guess what? It has an amazing mobile app that you can download, not to mention that this online dating website offers a mobile-friendly interface.
But what makes it one of the most sought-after Japanese dating sites? It's an ideal place where Western men can find someone for committed bonds via a matchmaking system. Based on the information you provide on your profile page, you'll be offered the best possible matches. So, if you're interested in more than casual dating, this is where you should embark on a romance journey.
If interested in exploring this dating platform, this in-depth JapanCupid review is what you need. Find out all you need to know about this amazing Japanese dating app. Stay tuned for more.
Japan Cupid Dating Site In Brief
Before you start exploring this review, why not have a glance at some quick highlights? Here are some facts about the Japan Cupid dating site:
Since 2005, Japan Cupid has been a part of a well-established Cupid Media network that's responsible for creating more than 30 reputable niche dating websites across the globe.
One of the best things about this dating platform is that you can get access to detailed profiles of Japanese singles and learn lots of stuff about them prior to getting in touch with them.
JapanCupid isn't a free dating site, so you'll need to upgrade your membership with 3 subscription options to access more exclusive online dating services.
The verification process isn't limited to only e-mail, as you can verify your account with a passport, driver's license, or National ID card.
Premium members can benefit from various advantages, including translation services, that will make online communication more efficient.
The website is renowned for having a fraud prevention team that's responsible for ensuring a better and safer dating environment.
The website is known for offering quite a young female audience, and the gender ratio of men to women is about 65 to 35.
With more than 900K users coming from different countries, it prides itself on a large user base of charming ladies.
If you wonder how this dating platform can be useful to you, just continue to read this review and discover more about it.
Who Are Really Signed Up On JapanCupid?
This Japanese dating site has helped thousands of men from the US, UK, and Australia find their halves. You can access Success Stories on the platform and discover what real users share about this place. Although more than 30% of the audience is aged between 18-34, there are also some senior users.
Note that the website offers a chance to date straight people. So, you won't find any members representing the LGBTQ community. What's more, you can find ladies who are interested in non-committed bonds, but the main female audience is searching for an ideal partner for long-term relationships.
All About JapanCupid Dating Website
Once you register and start browsing the profiles, you'll see that most of the charming ladies are Japanese, but not all of them. You can also meet ladies from other Asian countries. 
How does it work? The website offers a chance to look for ladies with its search options, yet its advanced matchmaking system is much better. Every profile of a woman online can show how well you match. Let's reveal more about this place. 
About User Interface And Overall Experience
The good news is that there are no disturbing ads on this website. The design of the platform is quite neat. Everything is quite easily navigable from the landing page. When you click Online, you'll see random profiles you can look through. On the same page, you can discover search filters like seeking, age, country, etc.
You can sort offered profiles based on factors like relevance, last active, etc. If you go to the search page, this is where you can start a detailed search for ladies who can suit your interests. Not all parameters are offered for free. So, consider upgrading your membership to enjoy your romance journey and online dating experience on Japan Cupid.
Creating A New Account On JapanCupid
Planning to date on one of the top dating apps? The good news is that you can also easily create a new account on JapanCupid dating site. Still, profile building might take some time.
Registration Process
If you're determined to create a new account on JapanCupid, here are the basic steps to follow:
Go to the official website. On the main page, you'll find lots of interesting things to look through. Find out what the site can offer to you.
Fill out the registration form. The next step is to fill out the form. There's nothing complicated. You just provide the basic information, including your active email address.
Get your email verified. Without verifying your email address, it will not be possible to upgrade your membership.
The process of sign-up is not longer than 5 minutes. You'll be redirected to the landing page, where you can access ladies' profiles. Before you rush to discover the sexiest Japanese girls, why not create a catchy profile?
Profile Building
On the landing page, you'll find a profile avatar in the upper right corner. Click on it and choose Edit Profile. It is how you start your profile building. Don't forget that you're not required to edit your profile immediately. Take your time. You'll be redirected to a profile page with 6 options. 
Photos. It's recommended to upload photos of good quality and shouldn't contain any nudity. 
Profile. It is a page where you provide information about yourself. You're asked to provide basic information about yourself and your appearance, answer questions about your lifestyle, give some information about your background, and even more. What's more, you'll be asked to write your profile heading, a little about yourself, and what you're looking for in a partner.
Match. This is a section dedicated to your preferences. You should indicate who you can be interested in, where that person should be from, what she should look like, and the like. This is also a detailed section that will allow the system to understand more about you.
Interest. On this page, you'll be asked to provide information about your interests. You'll have to answer four questions. For example, there's a question, 'What kind of music are you into?' You need to choose the categories that suit you most.
Personality. Let your personality shine. You get a chance to answer some questions to give other users a better understanding of who you are. It's advised that you should answer at least 7 questions for better results.
Verify Profile. This is the last section. In addition to email verification, you should verify your ID. On your profile page, it'll be indicated that you have verified your account, which will make your profile more appealing to others.
Once you're done with your profile, you can start your dating venture. Explore the best profiles and create your list of favorites.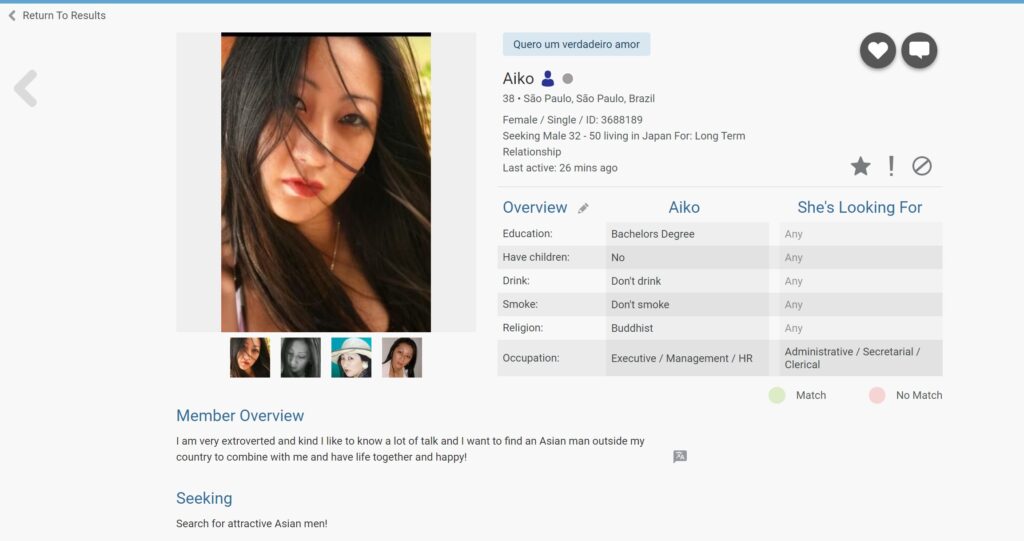 Matchmaking And Communication Services
Finding someone special is just a piece of cake on this dating platform. You can visit matches offered by the site. Or there are advanced search parameters that will help you find someone manually. But what about communication?
Visit the profile of a Japanese woman, and you'll see an option for starting communication. Click on it, and a live chat bar will appear. You can start with icebreakers offered by the site or write something on your own. If interests are mutual, you can easily continue to chat.
Is JapanCupid Legit And Safe?
This great dating site has taken all measures to ensure a completely safe atmosphere for dating. Outstanding features, professional matchmaking, and many other things prove it to be a legitimate dating platform.  
Alternative Dating Sites
JapanCupid dating website has a lot to offer, be it functionality or amazing profiles of Japanese women. However, it doesn't mean you can't find an alternative dating platform. There are some other good options that you can consider. Here's the table with such options:
| | | | |
| --- | --- | --- | --- |
| Eastern Honeys | One of the top Asian dating websites with a wide range of profiles of Asian singles | Advanced matching feature, professional customer support, mobile-friendly interface, amazing communication features | Visit Eastern Honeys |
| Asian Melodies | The best option for single men interested in meeting and dating ladies from Asian countries | Live chat, professional support team, a wide array of professional services, detailed profiles of Asian women | Visit Asian Melodies |
| Elite Singles | A great dating app connecting well-educated people with each other based on personality assessment | Personality test, top-notch services, advanced search filters, great communication tools, great mobile dating app | Visit Elite Singles |
How Much Does JapanCupid Cost?
No doubt paid members get more advantages on this dating platform, as free membership doesn't get you much. Before delving into pricing, you should know that the website offers 3 types of subscriptions: Gold, Platinum, and Diamond.
When considering the pricing of this dating platform, you should be able to pick the most suitable membership.
Gold Membership
1 month: 35.65 EUR;
3 months: 24.58 EUR per month (73.78 EUR);
12 months: 12.29 EUR per month (147.46 EUR).
Platinum Membership
1 month: 44.32 EUR;
3 months: 29.95 EUR per month (88.66 EUR);
12 months: 14.78 EUR per month (177.34 EUR).
Diamond Membership
1 month: 88.66 EUR;
3 months: 59.11 EUR per month (177.34 EUR);
12 months: 29.56 EUR per month (354.70 EUR).
The Diamond subscription offers more benefits when compared to other membership options.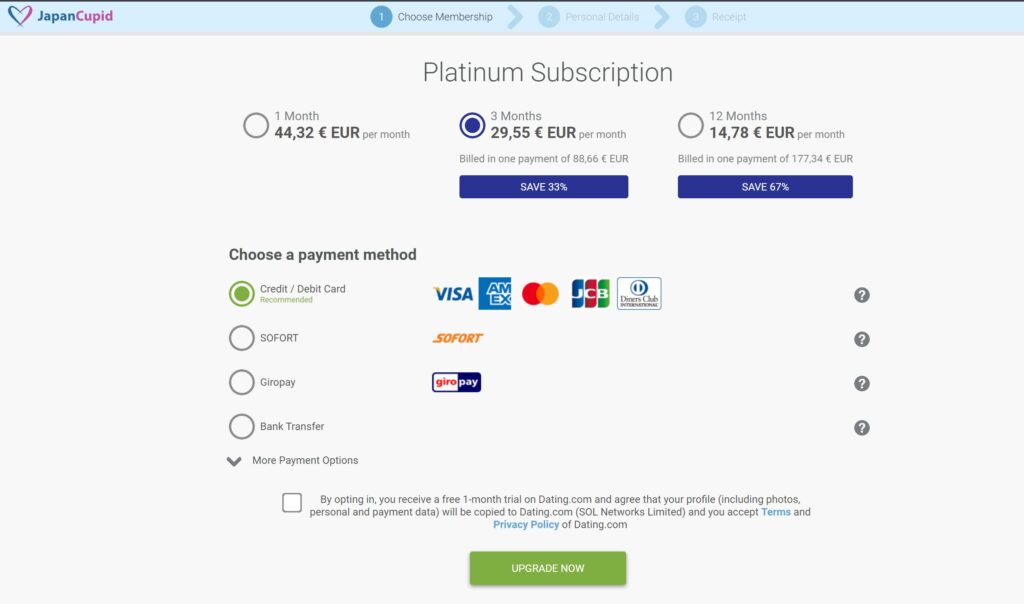 Paid Features
Why upgrade your membership? This will allow you to benefit from the following features:
Getting better matches;
Getting access to translation services;
Hiding your profile and photos;
Doubling your profile space;
Unlimited messaging and communication;
Profile highlighting;
Ranking above all members;
Priority messaging.
Overall, your paid membership allows you to send messages to other members, get access to all details on their profile pages, and even more. With the Diamond subscription, you'll get a chance to make your profile stand out among others and get more attention.
Free Features
Although there's a limited set of free features, some services are offered for free. Let's have a look at them:
Registration and profile building;
Profile browsing and accessing photos;
Creating a list of favorites;
Using search filters;
Matches;
Customer support service.
Still, to be able to communicate, it's better to consider upgrading your membership and start getting the attention of Japanese ladies.
Security Measures 
When it comes to safety, there's no doubt that it's a safe place, but what it's done to ensure security? First of all, the website is constantly monitored to eradicate suspicious profiles. Non-verified members are constantly reminded to get their accounts verified.
There's a clear refund policy that you can look through. You'll get your refund in case you become a victim of fake accounts or scams. In addition to refunds, there's a special section dedicated to dating safety. On this page, you'll get the best insights on how to date with your discretion.
The website is known for its rules and guidelines. It is where the site shares all the information on how security is sustained on this dating website and some rules that should be kept after registering. 
Final Thoughts
JapanCupid offers a large female audience, and thanks to its amazing features, communication tools, and advanced matchmaking system, it's undeniably perfect for those seeking the attention of charming Japanese women. With just a few clicks, you can meet your Japanese soulmate who can change your life for good. Why not try your luck and write your own story of love today?
FAQ
What is Japan Cupid?
Japan Cupid is a specialized dating platform that launched in 2005, targeting individuals who are interested in meeting Japanese singles. This dating service has grown to accommodate over 700,000 members worldwide. The majority of female members are located in Japan, and the platform is accessible in multiple languages, including English and Japanese. It operates on a freemium model, allowing users to access basic features for free while offering additional paid services.
Who is the main female audience of Japan Cupid?
The primary female audience on Japan Cupid is Japanese women aged 20 to 35, who make up about 60% of the female user base. These women often seek meaningful connections, with a majority indicating a preference for long-term relationships. Approximately 50% of female users on Japan Cupid fall into this age and interest category.
Is it really possible to find true love on Japan Cupid?
Yes, finding true love on Japan Cupid is feasible. Industry reports suggest that dating platforms have significantly increased the likelihood of finding a long-term partner. For instance, Japan Cupid has observed that around 20% of its users report engaging in a serious relationship with someone they met on the site, with an annual increase in successful matches by about 5%.
Is Japan Cupid a popular dating website in Asia?
Japan Cupid is a well-regarded dating website in Asia, particularly for its focus on Japanese dating. It attracts roughly 300,000 active users monthly from the region, which represents about 40% of its total user base. The platform has experienced a steady increase in popularity, with an annual growth rate of 12% among Asian users.