Gleeden Review: A Contribution to Adultery or an Alternative to Divorces?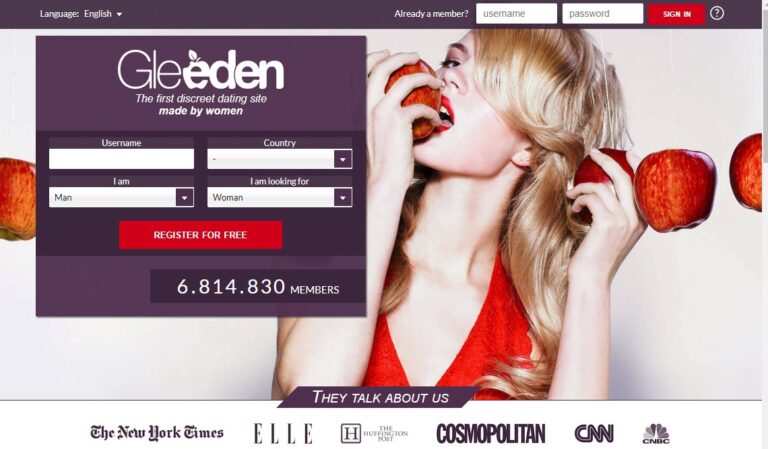 Gleeden.com is a popular French dating website for married people. The site was launched in 2009 by two French brothers, the Truchot. The title "Gleeden" itself consists of two words - "glee," meaning "fun," and "Eden," that means "paradise."
Gleeden.com has challenged the taboo of infidelity and the online dating industry. Marital infidelity is not a new phenomenon, but the founders of this online resource considered that finding a partner for extramarital affairs is really in demand among adults.
Gleeden states that 80% of its registered users are married. This online resource brings together more than 1.5 million users from France and more than 7 million customers from a hundred countries of the world. At present, the site is managed by a team of women. Female developers, community leaders, moderators, marketers, editors, and graphic designers are working side by side in their effort to create a comfortable, elegant, and safe environment for connecting people.
Yet, many customers find some disadvantages in Gleeden, like high prices and fake user profiles. What else can be said about the features of this online platform?
Gleeden Overviews
Simple and convenient interface
Anonymity and privacy
Free use of the site by women
Discreet policy
Availability of an alarm button
Expensive payment system by credits
Too many false profiles and accounts without photos
Real meetings can be canceled at the last moment
Incoming messages may be deleted by site moderators
Not many special features for communication
More Sites like
Gleeden
:
How It Works
The website is well thought out, functional, and pleasant to use. It is a convenient place to chat with other people who are looking for something more than they have. Gleeden is an online platform for adults where people can openly enter new relationships without sacrificing their current life partners. Thanks to the 24/7 work of a moderators' team, an essential feature of the site is confidentiality. It is to note that the flip side of privacy is the absence of photos and the use of false names.
The procedure of registration is anonymous and safe. This service offers a classic type of inscription, which is free for all interested users. You need to come up with a nickname and indicate some personal data. In the related fields, specify your age, email address, country and city of residence, profession, marital status, and a brief description of yourself. Your best pictures can be uploaded at will. Next, you can specify the type of relationship sought, as well as sexual preferences. You will then receive an email confirming your registration.

Women can immediately view member profiles for free. Next, you can specify the type of preferred relationship, as well as sexual preferences. You will then receive an email confirming your registration. Women can immediately view the profiles of other members for free. Men are invited to purchase credits enabling them to use all the functions of the website. After filling out your profile and uploading good photos, you can start searching soul mates by the selected criteria. Then, you can send messages to attract the attention of other users or invite somebody to chat.
Get ready to talk a lot before someone agrees to a closer relationship with you. In any case, do not forget to read your messages regularly. Incoming and not read mail may be deleted by the site moderators after some time. You can win the heart of the user you liked by giving a compliment or presenting a virtual gift. If you want to move from a virtual acquaintance to real dating, send the person you have chosen an offer to drink a cup of coffee.
People on this site are looking for the benefits of a relationship without flaws. They are here to get away from everyday life, take a break from their couples, and have a good time. There is no cheating here, and participants are free to talk about their husbands, wives, and children. Moreover, when both users are married, they usually do not want to cross the line in a new relationship.
Although moderators of the site are considered quite rigorous, they cannot cope with all fake profiles. Oddly enough, some men use female profiles to take advantage of the free use of the site for women. Another frequent criticism is that the site members often cancel real meetings at the last moment. The husband had doubts, the wife returned home earlier, the kid got sick, or some other reasons can result in canceling an appointment. Also, it often happens that a person disappears from the site after a meeting is repealed.
Audience
Gleeden is mainly intended for married men and women, but single people are also welcomed. Ladies reign on this site. Only women can view profiles of other members for free. Men have to purchase credits to use all the features of the site. According to some Gleeden reviews, the ratio of men to women is 2:1, and the age group of the users is from 35 to 50 years old.
This Internet resource claims leadership in the virtual dating market in France and Europe. In addition, an advertising campaign was started in the US back in 2011. Since that time, the Gleeden website has become popular in North America. Today, this online platform successfully connects married people seeking relationships and affairs throughout the world. 
Pricing
Only men pay on the site, and they have to obey the female philosophy of Gleeden. For users, the site is slightly different from what we are used to seeing in terms of subscriptions. This dating service does not offer subscriptions but a credit system. Unlike the monthly subscriptions provided by most dating sites, credits are charged for clicks and individual use of site functions. Men have several paying levels of access to women's accounts:
Discovery Package – 25 credits for € 14.99;
Seduction Package – 100 credits for € 39.99;
Temptation Package – 400 credits for € 99.99.
Registered members pay for sending and receiving live chat messages. Credits are paid for each action on the site. In this way, a message sent to another user costs 5 credits, even if no reply is received. You can read the response for 3 credits. Viewing a personal album costs 1 credit. Men use their credits at their discretion and without a time limit. You can buy credits using Visa, MasterCard, and American Express.
Safety
Gleeden provides a high level of security for all its members. It is a convenient and safe place where people who are officially married can be open and honest in their situations, without being condemned by society. The privacy and anonymity of users are fully protected.
The site provides an ability to hide personal pictures and give access to them only for specific users. In account statements, the real username is not indicated as not to arouse suspicion among the closest people. If you notice any fraudulent activity, you can click the alarm button, and the site administration will take a needed action to protect users data.
FAQ
What Is Gleeden?
This international dating website helps find common ground among people who are looking for relationships outside of their marriage. Gleeden allows users to speak out loud about what people usually talk in a quiet voice. In some way, this online service can be an alternative for a divorce.
How Much Does Gleeden Cost?
Gleeden does not offer long-term subscriptions. Instead, men buy credit packages and pay them for various services of the website. Women do not need to pay though. Thus, 25 credits come with a price of € 14.99, 100 credits cost € 39.99, and 400 credits can be bought for € 99.99.
Is Gleeden a Scam?
Gleeden cannot be considered a scam in the proper sense of the word. This dating service has a good reputation, a long history of existence, and a large number of users.
Is Gleeden Safe?
Yes. It is a secure dating service open to all people and users of all lifestyles.
Who Owns Gleeden?
The site Gleeden.com is currently managed by an American company Black Divine, which is headquartered in New York. Also, it has offices in Los Angeles, London, and Paris. 
What Security Features Does Gleeden Have?
Gleeden gives priority to the confidentiality and security of the website users. This service provides anonymity of payments, presence of an alarm button, and protection of private photos. Special Safe Harbor software enhances the protection of personal data too.
Does Gleeden Have a Mobile App?
Yes. Gleeden launched its mobile app in 2012. It provides an ability to safely and seamlessly use all the functions of the site from anywhere. This free application has a seductive and stylish design. It can run on various devices, such as Android, iPhone, iPad, and iPod touch.
How Do I Delete My Gleeden Account?
Click on the appropriate button in the lower right corner of your profile. The site administration will ask you the reason for this decision. Confirm your desire to unsubscribe and enter your password. Your profile will be still valid for 30 days. You can return at any time. Only after this period, your profile will be permanently deleted.