Chatroulette Review: An Unpredictable Social Platform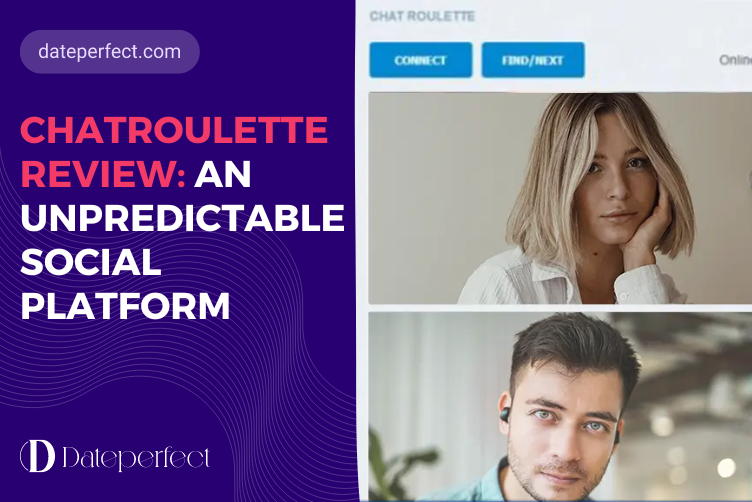 Chatroulette is a video chat website that connects random strangers from all over the world. It was launched in 2009 as a video chat platform by a Russian teenager named Andrey Ternovskiy, who was just 17 years old at the time. Chatroulette quickly became a global phenomenon, attracting millions of users from all corners of the globe.
Over the years, the webcam chat site Chatroulette has undergone several changes and upgrades to improve its user experience. Today, the platform boasts a user-friendly interface that allows users to easily connect with random people from all over the world. However, despite its popularity, the video chatting site Chatroulette has also been the subject of controversy, with many people questioning internet site safety and privacy features. If you want to know more about the most popular video chatting internet site, read my Chatroulette review.
History of Chatroulette
The first thing I would like to tell you in this Chatroulette review is a story about the start of the video chatting platform creation. The idea behind Chatroulette was simple: to create a platform that would allow random people online to connect with strangers from all over the world. The concept was inspired by the game of roulette, where players spin a wheel and are randomly paired with a number. In the case of Chatroulette, users are randomly paired with other users for a video chat.
Chatroulette free site quickly became a sensation, with millions of chatroulette members flocking to the platform. However, it was not long before the platform became known for its adult content and inappropriate behavior. This led to several changes, including adding moderation tools to help filter out inappropriate content.
Pros and Cons of Using Chatroulette as a social platform
Pros:
Provides a unique platform for meeting and interacting with people from all around the world.
Offers a level of anonymity that can be appealing to those who want to keep their identity private.
Allows for spontaneous and unexpected conversations with strangers, which can be exciting and fun.
Can be a useful tool for language practice or cultural exchange.
Provides a non-judgmental space for people to express themselves freely without fear of rejection or ridicule.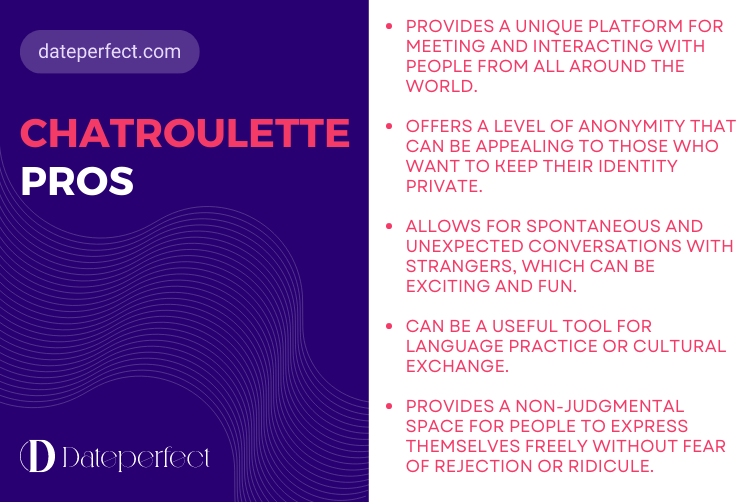 Cons:
Can be a breeding ground for inappropriate or offensive behavior, such as nudity or sexual harassment.
A lack of moderation can make the platform unsafe for chatroulette members, especially minors.
The anonymity feature can also lead to cyberbullying or trolling behavior.
The random nature of the platform can lead to a lack of meaningful connections and conversations.
The platform has been known to attract a disproportionate number of male users, making it difficult for female users to feel safe and comfortable.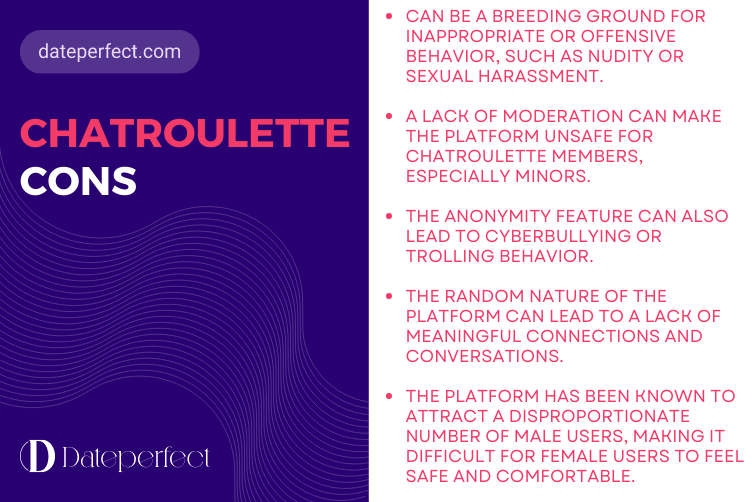 Interview those who have used Chatroulette in the past and their feedback
During my interviews and creation chatroulette review, I found that Chatroulette has had a mixed reputation in the past due to its lack of moderation and the prevalence of inappropriate behavior. However, some users did find the platform to be a unique and interesting way to connect with people from around the world.
One chat sites user, John, shared that he used Chatroulette to practice his language skills with native speakers. He found it to be a valuable resource for practicing conversational skills and learning about different cultures.
Another user, Sarah, expressed her disappointment with the platform's lack of moderation and the frequent encounters with explicit content. She stated that she no longer uses Chatroulette due to these issues.
Overall, the feedback I gathered from past Chatroulette users is mixed. While some users found the platform to be a unique and valuable resource, others were turned off by the lack of fake profiles moderation and inappropriate content. It is important to proceed with caution and use Chatroulette at your own risk.
Impact of Chatroulette on online safety and privacy
Chatroulette is a social platform that allows users to video chat with random strangers from around the world. While the platform has evolved over the years, one thing that has remained consistent is the concern over online safety and privacy.
On one hand, Chatroulette allows users to connect with people they may never have met otherwise. This can lead to new friendships, cultural exchange, and even romantic connections. 
In terms of online safety, Chatroulette has implemented certain measures to protect users. For example, the platform requires users to confirm their age and prohibits explicit content. However, these measures are not foolproof, and users may still encounter inappropriate behavior.
Privacy is also a concern on Chatroulette, as users may share personal information with strangers. The platform allows users to remain anonymous, but this anonymity can also lead to potential abuse.
Overall, the impact of Chatroulette on online safety and privacy is mixed. While the platform can facilitate positive video chats connections and experiences, it also carries risks. Users should be cautious and aware of the potential dangers of using the platform.
Chatroulette comparison. Similar online dating sites and their unique features
❤️ FlirtForDate.Com: Discover an exceptional well-organized dating website with fantastic features reminiscent of Chatroulette, where you can connect with new people and engage in exciting conversations.
❤️ LuckyCrush: Elevate your dating experience with the dating internet site LuckyCrush, a leading platform that introduces you to random individuals for thrilling interactions and potential connections.
❤️ SingleFlirt: Designed for those seeking short-term connections, SingleFlirt is a top casual online dating site that caters to individuals interested in enjoyable and non-committal experiences.
❤️ iDates: Join one of the most popular internet dating sites and apps available today, iDates. Explore a vibrant community and discover potential matches with ease.
❤️ SearchingForSingles.Com: Go beyond live video chats with SearchingForSingles.Com, a dynamic platform that offers a wide range of features and online dating services to enhance your online dating journey.
❤️ LocalFlirt: Immerse yourself in an exceptional online dating experience on LocalFlirt, a perfect and great site filled with diverse profiles, exciting features, and endless fun.
❤️ Singles-Meets: Explore an incredible online dating site that prioritizes perfect communication features and ensures higher levels of security. Singles-Meets is undeniably amazing and the best dating site for connecting with potential partners and making connections with new friends.
Exploration of the future potential of Chatroulette and its potential for growth
Chatroulette, a video chat service that randomly matches users from around the world, has had a rocky history. In its early days, Chatroulette was a sensation, with millions of users flocking to the site to experience the thrill of meeting strangers online. However, it quickly gained a reputation for being a platform for indecent behavior, causing many users to abandon it.
Despite its past struggles, Chatroulette still has potential for growth in the future. The platform has undergone significant changes to address safety concerns, including the implementation of content moderation and a reporting system for inappropriate behavior. These efforts have helped to make the site a safer place for users.
One area in which Chatroulette could expand is in its focus on connecting people from different countries and cultures. The platform could leverage this strength to create more opportunities for cross-cultural communication and understanding. Additionally, Chatroulette could explore ways to integrate new technologies like augmented reality and virtual reality to enhance the user experience and attract a younger demographic.
Another potential growth area for Chatroulette is monetization. While the site has experimented with advertising in the past, it has not yet found a sustainable revenue model. By offering premium features or subscription-based services, Chatroulette could generate revenue while still maintaining its core mission of connecting people from all over the world.
In conclusion, while Chatroulette has faced many challenges in its history, its unique premise and potential for growth make it an interesting platform to watch in the future. With continued efforts to improve safety and explore new features, Chatroulette could become a leading player in the world of online social interactions.
Discuss the cultural significance of Chatroulette and its impact on society
Chatroulette is one of the best chat sites that has made a significant impact on society since its inception in 2009. The platform's cultural significance can be seen in the way it has shaped the way people interact with each other random strangers online.
One of the most significant impacts of Chatroulette on society is its role in breaking down geographical barriers and facilitating cross-cultural communication. Chatroulette allows users from all over the world to connect with each random stranger by video chat, enabling them to share ideas and experiences that they might not have had the opportunity to do otherwise.
While Chatroulette has its pros and cons as a social video chat platform, it has undoubtedly had a profound impact on the way people interact with each other online. Its unique features, such as the random video chat function, have made it a popular choice among users looking to meet new people and expand their social circles.
However, the platform's impact on online safety and privacy cannot be ignored. Chatroulette has been criticized for its lack of fake profiles moderation and the prevalence of inappropriate content on the platform. Users must be cautious when using the platform to protect their personal information and avoid potentially dangerous situations.
Despite these concerns, Chatroulette's cultural significance cannot be denied. It has paved the way for other social platforms to explore new ways of connecting people and breaking down barriers. As technology continues to advance, it will be interesting to see how the Chatroulette video chat platform evolves and adapts to the changing needs and desires of its users.
Summary of your findings and present your overall opinion of Chatroulette
After conducting extensive research, gathering feedback from past users, and analyzing the impact of Chatroulette on online safety and privacy, we have come to the conclusion that Chatroulette is a unique social video chat platform that offers a variety of pros and cons.
On one hand, Chatroulette allows users to meet people from all over the world and engage in conversations with strangers. This can be a great way to expand one's social circle and learn about different cultures. Additionally, Chatroulette's anonymous nature provides users with a sense of freedom and spontaneity that is not typically found on other social platforms.
Despite some challenges, Chatroulette continues to be a popular video chat social platform. Its unique features and potential for growth make it an interesting platform to watch in the coming years. Overall, while we acknowledge all aspects of using Chatroulette, we believe that it can be a valuable tool for individuals looking to connect with others online with chat sites.
Overall Opinion
In summary about Chatroulette review, this video chatting social platform has both pros and cons. While it can be a fun way to connect with people from all over the world, the potential for explicit content and harassment makes it a risky platform to use. We believe that Chatroulette website could benefit from better regulation and moderation to provide a safer video chat experience for its users.
Used Resources: 
The Chatroulette website was created by Andrey Ternovskiy, a 17-year-old high-school student in Moscow, Russia. … Ternovskiy says the concept arose from video … (https://en.wikipedia.org/wiki/Chatroulette)
The evolution of the Chatroulette logo is a story of the search for individuality. An early version was colored in the standard "gender" … (https://logos-world.net/chatroulette-logo/)
The video chat site wasn't exactly civil—far from it—but it pales in comparison to the actual chaos of the past decade. (https://www.wired.com/story/chatroulette-internet-chaos-2010s/)
Ternovskiy about the origin of the idea for ChatRoulette, how he manages the technical challenges of running the site, whether he viewed it as a … (https://bits.blogs.nytimes.com/2010/02/13/chatroulettes-founder-17-introduces-himself/)
"CampusLIVE, the original ChatRoulette" was established in 2007. Campuslive.com is the original precursor to the concept of (https://thepolypost.com/news/2010/04/05/article_0069779e-a5ce-58f5-aa40-91125fba969d-15/)
In a one-hour stint on Chatroulette, you'll see more sexual exhibitionists than have graced the New York City subway system throughout history, … (https://3quarksdaily.com/3quarksdaily/2010/01/chatroulette-a-fascinating-site-for-mature-audiences-only.html)
Chatroulette is the latest in a long line of lower-effort, higher-interaction social marketplaces. It literally has a higher risk-adjusted social ROI than … (https://www.quora.com/How-did-Chatroulette-become-such-a-global-phenomenon-so-quickly)
In October of 2011, James Greenwood was playing Chatroulette, the website that pairs users around the world in video chats with other users at … (https://theoutline.com/post/8136/we-met-on-chatroulette-and-had-a-baby)
The amazing story of Chatroulette is an amazing phenomenon with the fact that the overall idea of random video … History of Chatroulette. (https://onthemarc.org/the-amazing-story-of-chatroulette-chatroulette-is-gone-or-back/)