What Is Swinging: Learn About Partner Swapping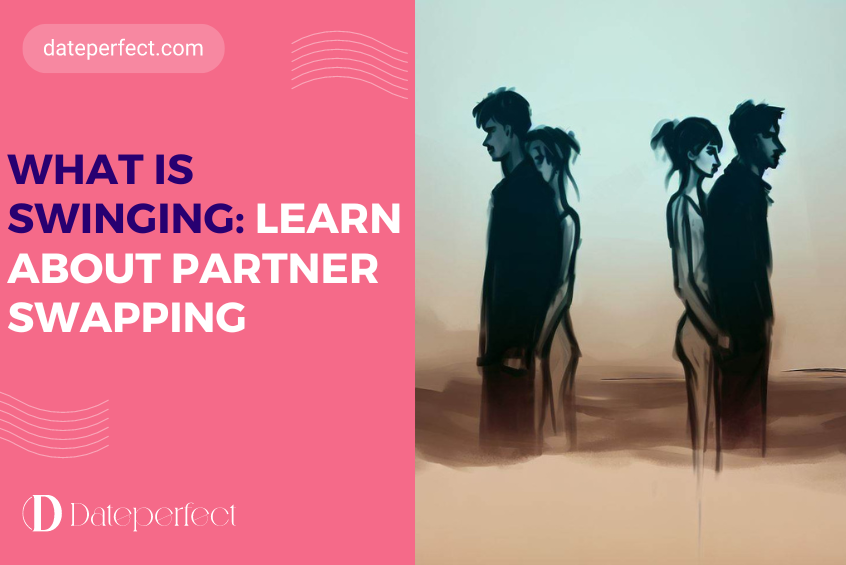 What are swingers? Well, it's no secret that monogamous relationships might not be ideal for everyone, and this explains why couples might be interested in experimenting, and swapping partners has been seen as a good way to spice up relationships for couples who don't want to break up or divorce. Swinging, or being in such a lifestyle, is consensual involvement in non-monogamous sex. The key aspect of such bonds is the consent of partners.
It's a type of open relationship, and there are many reasons why people opt for such a lifestyle. It can also be added that swinging is getting more popular, and more people wonder about this practice. So, if you're interested in swinging and don't know a lot about it, you better continue to read this guide on swinging to learn more, so stay tuned.
Basics of swinging
Before you start looking for sexual partners, you should know more about the basics of this lifestyle, and to be a part of swinging, you need to be married or be in a committed relationship. What's more, you and your partner should be ready to meet other sex partners. But where does one find a swinger community?
Well, there are many popular parties designed and intended for swingers, and these sex parties are generally referred to as key parties. These parties are where you can find male and female partners for swinging. Don't forget that you won't expect something like a romantic relationship, as swinging is mainly about carnal pleasures.
What does swinging or swapping partners involve?
In general, swinger sex is about the sex in the same room. Since it's about changing couple partners, it's important for partners to see how their halves get the maximum pleasure. While seeing each other getting pleasure, such sex is also about ensuring the feeling of security. Still, it's not a requirement that everything takes place in the same room.
As was stated above, swinging is some kind of open relationship, and interestingly, it has its own types that you might want to reveal. In general, experts agree on mainly 2 types of swinging or partner swapping. These types are the following:
Soft swap. As the name suggests, this type of swinging doesn't involve hardcore sex or intimate penetration. In general, it's a type of swinging that involves sexual activities like foreplay, kissing, licking, or oral sex.
Hard swap. This type of swinging is also known as full swap, and it's about having sex that involves vaginal or anal penetration. This is full sexual intercourse, be it in the same room or not. It's common for experienced couples to opt for a hard swap.
Which is better for you? Well, that depends on your preferences and readiness to share your partner with others. Still, it's quite common for couples to start with a soft swap before engaging in full sexual intercourse.
Swinging and polyamory
Well, imagine swinging doors, and no matter what happens, any swinging door is still fixed, and this is about the relationships of swinging couples. According to most of them, one of the main goals of swinging is to ensure better bonds. For them, it's great to observe how their mates get pleasure and happiness. And this is believed to make bonds even stronger.
Thus, don't get surprised if swinging couples would say that they don't have open relationships but only sexual excitement. When it comes to polyamory, it's something different. Polyamory is about creating relationships outside your primary partnership or marriage. In general, it's about meaningful connection rather than something casual, which is not true about swinging.
Swinging or swapping partners is more about sex and realizing kinks. When swingers engage in sex, this sexual practice can be said to be something like teamwork, as you're required to get consent not only from your partner but also from the couple to fully engage in swinger sex. And it's not common for couples to be attached to other couples.
How to understand whether swinging is right for you
If you're planning to find a swinging bachelor or couple, you should understand whether you're ready to be a part of this and really enjoy swinging. What's more, you should know that it's about getting the maximum pleasure for you and your partner, but it's not about finding a long-term partner.
If you think your relationship isn't going well and needs some changes, swinging can be a solution. For this, you should be able to know more about swapping partners and be ready to see how your partner is getting satisfied by someone else. This isn't for everyone, but still, it doesn't mean you won't get a chance to try it. That's why there is an opportunity for a soft swap.
How can you start swapping partners?
One of the last things to consider is how you can start swinging. Actually, there's nothing complicated about it, as you need to do research about swinging and its community. Find out about the places where you can meet like-minded couples and dare to visit those places to embark on a new journey. But before you do so, you should do 3 things like the following:
Discuss it with your partner. As was already mentioned, it's about teamwork, and consent is a must before engaging in sex. The first consent is to be given by your partner. Discuss it and try to convince your partner.
Communicate more. Now it's time to communicate more than ever before. This is where things get real, and it can take time before you get consent. Since you and your partner will allow others to become part of your intimate life, communication is always critical.
Don't ever rush. A soft swap stage can take longer than you can expect, and that's really okay. In some cases, couples don't even get naked. It's just about kissing and hugging so that you can adjust to a new lifestyle.
Final thoughts
Swinging is not something recent, and it's been around for a long time, but thanks to online dating, more and more people are aware of swinging and its benefits. You can also become a part of this new lifestyle.