We Don't recommend Heated Affairs,
Try Better...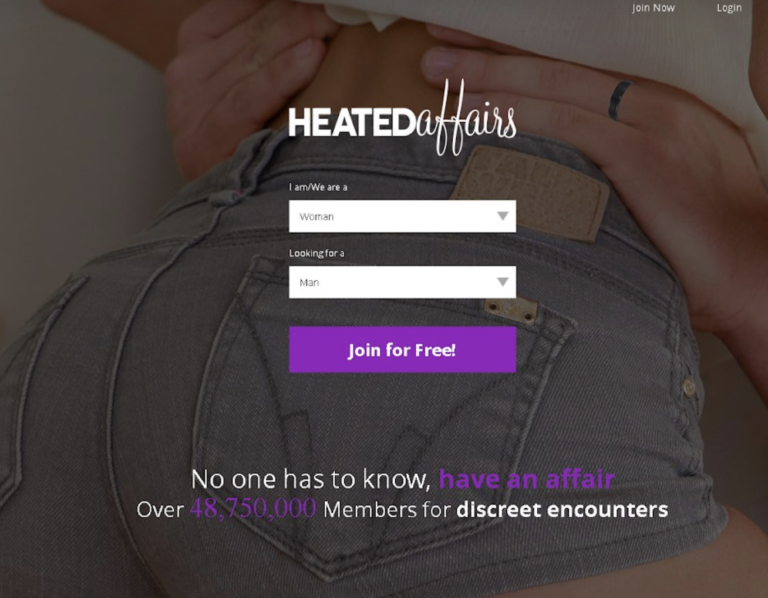 Heated Affairs is a dating site for users seeking discreet affairs with other committed or married people. The popularity of this website corresponds with the growing demand for an online community for extramarital affairs. Users have to create profiles and buy credits to find and interact with other users. After going through Heated Affairs reviews, there is no question that this dating site is a popular name in the industry. Also, the company accepts members of all genders and caters to them. However, a lot of customers complain about the pricing and the problematic 'points' system in use on the website. There are also complaints about the number of fake profiles on the site. Therefore, we have conducted an independent and wholesome Heated Affairs review and will discuss our findings in this write-up.
Specific community with all users looking for affairs
Optimized search algorithm
Intuitive mobile version
Limited access to services without a Gold membership
Expensive subscription plans
No mobile app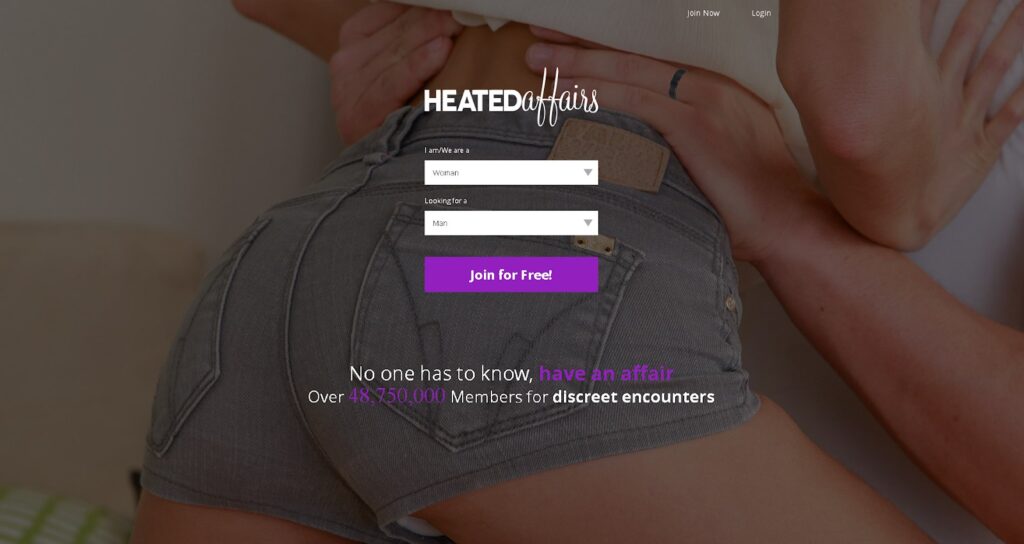 How it works
The design of the HeatedAffairs.com landing page is quite captivating, but the beauty of the interface disappears gradually beyond this point.
You can access the dating site on desktop and your mobile devices. The mobile experience is optimized to compensate for the absence of a HeatedAffairs app. Also, while browsing the site, a spool of videos containing nude models can be seen on the sidebar. This feature is offensive to some users, as mentioned in many HeatedAffairs reviews.
Setting up a profile
Similar to other similar websites, HeatedAffairs requires users to register before using their services. While creating your account, you have to specify your email and preferred username different from your real name. You also have to complete a standard data form with your information. This form is divided into five parts, which you have to complete step-by-step.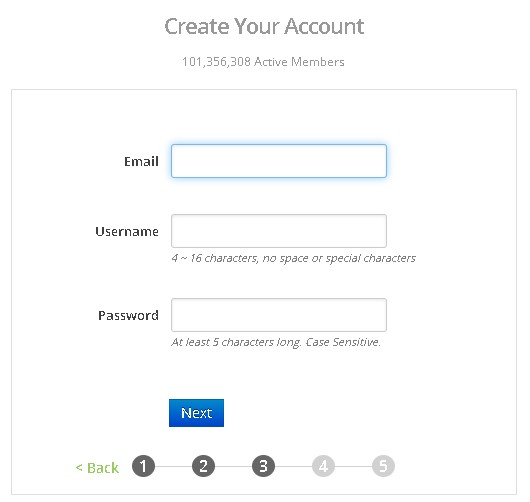 Afterward, you will be redirected to your profile to complete your account creation. HeatedAffairs users can make use of their advanced search engine to narrow down their preferences.
After creating your profile, you gain access to the site and can now browse other users' profiles based on location and age.
Without registration, you cannot view profiles containing nude pictures. This policy is understandable to avoid exposing minors to pornography. However, the reel of 'cam' videos remains on display at all times while you are creating the account contradicts this policy. 
Furthermore, you can access your dashboard and update your bio with more specific personal data. Also, you can upload photos to your profile whenever you want. For any action you complete on the website, you gain points. These points can give you access to other exciting HeatedAffairs services.
Extra services
HeatedAffairs provides a lot of services for registered members. However, you can only enjoy the entire scope of their services if you are a subscriber. Here are some of the available services and features:
Free of charge
Free exploration of user profiles
Image upload
Reactions on photos and videos
Chat on Instant Messenger
Membership of blogs and groups
Paid services available to Gold members
Erotic stories. Users can read stories shared by others on the HeatedAffairs dating forums. 
Magazines. The company often posts stories in their magazines. These magazines address different issues faced by people having affairs.
Member blogs. Paying members enjoy the privilege of running personal blogs where they can share stories and provide advice to other users.
Live Models' shows. Gold membership gives you access to unlimited live member webcam shows.
Member Chat.
Expanded hotlist of up to 1000 users
Sending flirts and friend requests to other users
Commenting and liking videos.
With the Gold membership, you can enjoy every service on the HeatedAffairs. Unfortunately, there is no trial period before deciding if you want to pay for it or not.
Customer Support
When you need assistance or advice on one of the features, the customer support will assist you. If you want to report suspicious activity on the HeatedAffairs website, the customer service team will process your complaint. Also, the customer support staff will help you deactivate your account. You can contact them via email or telephone. 
However, the absence of immediate customer support response is a major problem. Gold members can get a response within 12 hours after making a request, while users with standard membership will have to wait for up to 2 days for a reply.
Audience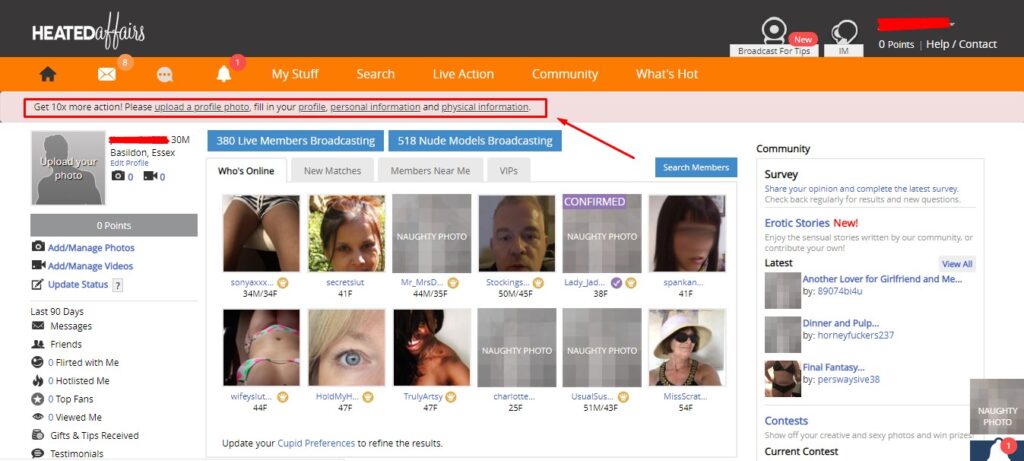 HeatedAffairs users come from all countries of the world. The company has over 100million users on its database. Furthermore, the minimum age of using this dating service is 18. However, most of the younger users are not less than 25 years old. 
Also, when you log in to your account, you will discover the number of active users within your vicinity. 
Most importantly, HeatedAffairs caters to every sexual orientation. So, the results of your search cater to your specific sexual preferences. Also, you can register your profile on HeatedAffairs as a group.
HeatedAffairs receives over 100 000 unique visits every month. The male users outnumber female users by an outstanding majority of over 70%.
Pricing
Heated Affairs prices are affordable. You can choose any plan that suits you and pay accordingly. These are the available subscription plans at Heated Affairs:
Standard membership
A 1-month subscription costs $19.95 
A 3-month subscription costs $35.85
A 12-month subscription is $107.40

Gold membership
A 1-month subscription costs $39.95 
A 3-month subscription costs $80.85
A 12-month subscription is $239.40
The 12-month subscription is the most lucrative option since it costs less on average than the monthly subscription. Also, the 12-month subscription entitles you to an additional six months of free usage.
You can complete your payment using your standard credit card. Also, you can choose to pay in person or via money orders if you prefer this method. 
Safety
Heated Affairs devotes attention to protecting user data.  However, like other dating sites, there is nothing like absolute safety when using Heated Affairs. Since users can use fake names and email addresses to create their accounts, it is difficult to verify someone's identity. Also, Heated Affairs does not conduct any background check before verifying a member's profile. 
Furthermore, the privacy policy provides a lot of safety protocols to protect the members' data from fraudsters. Heated Affairs users' billing information, communication, and personal data are encrypted using an advanced security protocol.
However, this policy has not reduced any fears nor addressed the issue of fake profiles. Although the company warns users not to share information with other users, it is not enough of protection.
FAQ
What is Heated Affairs?
Heated Affairs is an online dating site for people who are interested in affairs outside marriage. The clientele covers people from all over the world, irrespective of sexual orientation and gender.
How much does Heated Affairs cost?
Heated Affairs membership is free for everyone. However, the standard monthly subscription costs $19.95, while the cost of the annual subscription is $239.40. You can also pay for the 3-month subscription for $80.85 and save more money.
Is Heated Affairs a Scam?
Fake profiles are a nuisance associated with using HeatedAffairs.com. Users complain about falling victim to fraudsters while using the dating site. Since there is no system of vetting the members, anyone can join the dating community.
Is Heated Affairs Safe?
The company does not vet any of the users. Once you can afford the subscription fee, you can become a member without going through any background check. It is quite easy to fall victim to scams on Heated Affairs.
Who owns Heated Affairs?
No one knows who owns the website, but the Heated Affairs' headquarters are at 910 E. Hamilton Ave., Sixth Fl., Campbell, California, 95008, United States.
What security features does Heated Affairs have?
The Heated Affairs.com website is SSL-encrypted. This feature protects communication between users from leaking to third parties. They also use a two-factor verification for individual accounts. However, these measures are not enough since most scams on Heated Affairs occur via peer-to-peer communication.
Does Heated Affairs have a mobile app?
Heated Affairs has an intuitive mobile version. However, there is no standard mobile app. The absence of an app is inconvenient since you have to clear your browser history after every session to maintain secrecy.
How do I delete my Heated Affairs account?
To delete your HeatedAffairs account, you have to send a signed notice with a stipulated termination date to the Heated affairs' official headquarters. Alternatively, you can send the support team an email using the Feedback Form.